'Law & Order' Reruns Garner Nine-Figure Deal From NBC's Peacock
(Bloomberg) -- Comcast Corp.'s NBCUniversal is getting a trove of Dick Wolf programming for its new Peacock streaming service, including "Law & Order." But despite paying nine figures for the library, it won't have the fan-favorite dramas to itself.
Walt Disney Co.'s Hulu also will offer some of the shows on its service through a separate deal, according to a person familiar with the situation. Amazon.com Inc.'s Prime service also has access to "Law & Order: Special Victims Unit" under an existing agreement. (The shows also are readily available on basic cable in the U.S.)
Media companies have been bidding up the cost of popular old shows to satisfy customers of their new streaming services. AT&T Inc. paid around $1 billion to put episodes of "Friends" and "South Park" on HBO Max, while Comcast already shelled out at least $500 million for "The Office."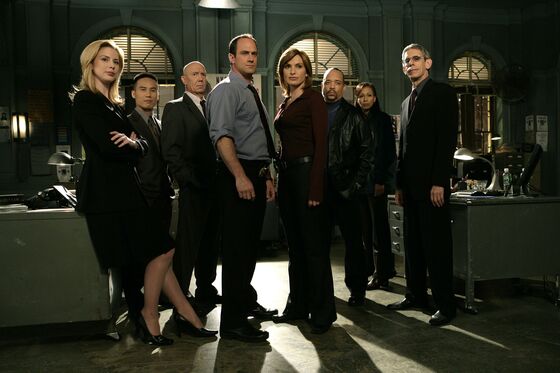 The shared nature of the Wolf deal is unusual, since most platforms have sought exclusive streaming access to show libraries. Combined, the Peacock and Hulu deals will be worth a similar amount to the agreements for "The Office" or "Friends," said the person. The Hollywood Reporter put the Peacock portion at $300 million to $400 million.
Reruns of "Law & Order" have long been a staple of cable television, and fans are known for watching them hours at a time. Wolf is one of the most prolific producers of TV in history, having created more than six versions of "Law & Order," as well as "Chicago Fire" and "Chicago Med."
The Wolf library provides Peacock with a deep reserve of popular shows ahead of its launch in April. On Thursday, Comcast gave a preview of the service, which will debut in the coming months in multiple tiers. There will be a free version with advertising, a premium product for $4.99 with more programming, and a $9.99 level that gets rid of the commercials.
These shows may not bring in new customers, but they'll give them a lot to watch after they've finished sampling a new drama or comedy. Netflix built a $150 billion business by blending hit shows from the past with new programs such as "House of Cards," all available at the push of a button.