'It's Definitely Risk On': Rush to Bond Market Begins in U.S.
(Bloomberg) -- U.S. credit markets are finally thawing.
The high-yield market saw its first new issue in six weeks on Thursday, the same day that investors poured in nearly $40 billion of orders for a bond offering from AB Inbev. And leveraged loan outflows are abating, helping prices recover across the board as investors regain confidence that the economic expansion has more room to run.
"There's definitely been a change in tone, and it's definitely risk on," said Matt Kennedy, a high-yield portfolio manager at Angel Oak Capital Advisors. "This reversal has reinstilled some of the confidence the market had prior to October that the expansion can continue."
The credit carnage in the last quarter of 2018 is reversing as the Federal Reserve seeks to reassure markets that its hiking cycle is not on autopilot. At the same time, cheaper valuations have provided decent buying opportunities. While investors still maintain longer-term fears about economic growth and trade tensions, the near-term weakness warrants taking exposure at the margins, several Wall Street strategists said this week.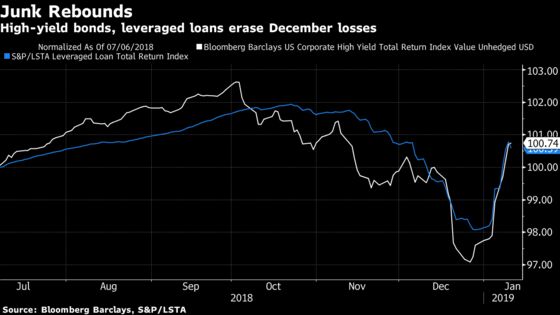 The change in sentiment has been especially encouraging for new issuance. Targa Resources Corp. on Thursday ended the drought in the high-yield market in stunning fashion, drawing in enough demand to double the size of its offering to $1.5 billion. Anheuser-Busch InBev NV drew in orders quadruple the amount it initially sought to borrow, allowing the world's largest beer brewer to up the size of its offering to $15.5 billion. Leveraged loan prices have rebounded and returns have soared, giving way to a $4.5 billion week of new supply.
That's a stark contrast to as recently as last week, when units of companies like Ford Motor Co. and Duke Energy Corp. had to pay higher risk premiums and received little demand for their offerings. Better sentiment this week allowed investment-grade companies to borrow $45 billion, and the good vibes are already shaping up to flow into next week, when a unit of Twenty-First Century Fox Inc. is expected to bring a multi-billion dollar deal related to its acquisition by Walt Disney Co.
The rally has some strategists wondering how long it might last. Leveraged loans, finally receiving inflows and trading higher in the secondary market, are unlikely to continue the ride because the best of the credit cycle is behind us, Bank of America strategists said this week. The bank also said that the rally in the high-yield market, where spreads have tightened 75 basis points since the end of the year, is "probably reaching its near-term limits," according to a note Friday. Any further rally in junk bonds "is likely to be limited and more gradual," UBS strategists said this week.
"I'm not 100 percent certain that the sell-off is over," said Marc Bushallow, managing director of fixed income at Manning & Napier. "Improved valuations are better, but for us it's still hard to want to be aggressively buying credit at this point in the cycle."
So far, there's been nothing gradual about junk bond flows, which whipsawed this week to draw in $1.05 billion, reversing seven straight weeks of outflows, according to Lipper. Investment-grade outflows have moderated, as have those of leveraged loan mutual funds. Even though they extended losses to an eighth-straight losing streak, the latest loan outflow for the week ended. Jan. 9 was much more muted, and loan exchange-traded funds are finally receiving cash.
That kind of demand has translated to higher prices for leveraged loans this week: The average is around 96 cents on the dollar, up from less than 94 cents at the beginning of the month, according to the S&P/LSTA Leveraged Loan index. Such a rebound is giving banks the opportunity to offload risky corporate loans that they were unable to sell in December, enticing buyers with discounts and better terms.