'Free Venezuela!' Cries of Dissent Suddenly Ring Out in Caracas
(Bloomberg) -- Surprising noises rang out in eastern Caracas a few hours after Nicolas Maduro was sworn in for a second term as Venezuela's president. People were banging pots together, heavy ones from the sounds of it.
They were shouting too, mostly profanities, but also "Maduro is an assassin!" and "Free Venezuela!" It was incredible, the kind of racket most Caraquenos hadn't heard -- or had the energy to make -- for more than a year.
The cacophony that evening nine days ago, a revival of the pot-clanging that used to be a popular form of protest, was the surest proof yet that there has been a shift in the mood in a capital city beaten down by an unprecedented economic collapse and a regime keen on suppressing dissent.
Monica Hernandez, a school teacher, summed it up this way: "I have hope."
The down-with-Maduro spark has been reignited, and it's being fanned by a 35-year-old lawmaker most people in the city couldn't have picked out of a lineup two weeks ago. Juan Guaido, head of the National Assembly, started to soar to political rock-star status with his declaration at a rally after Maduro's inauguration that he was ready to assume the presidency himself in the place of a "usurper" whose hold on the office is widely viewed as illegitimate.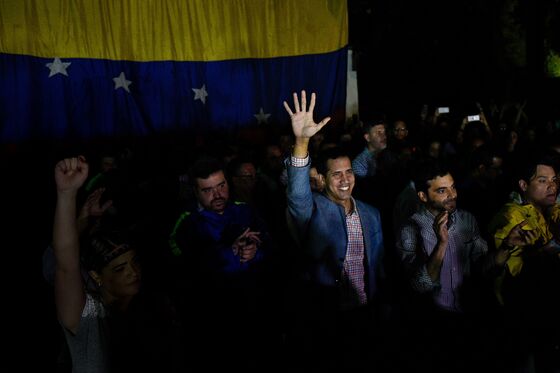 Then, sealing his shot toward fame, he was arrested and briefly detained by the secret police. Venezuelans who have ignored other opposition calls to demonstrate might well heed Guaido's to attend nationwide protests on Jan. 23, a holiday celebrating the country's turn to democracy six decades ago.
No matter that it's highly unlikely Guaido will be moving into Miraflores Palace anytime soon. WhatsApp lit up with messages praising him; one said, simply, "This boy has balls." Internet chat groups dedicated to water-rationing schedules were flooded with discussion-chains about his chances.
People posted pledges to "hit the streets" on Jan. 23. They circulated photos of the lawmaker with his partner and their daughter, decorated with hearts and the caption, "Presidential Family."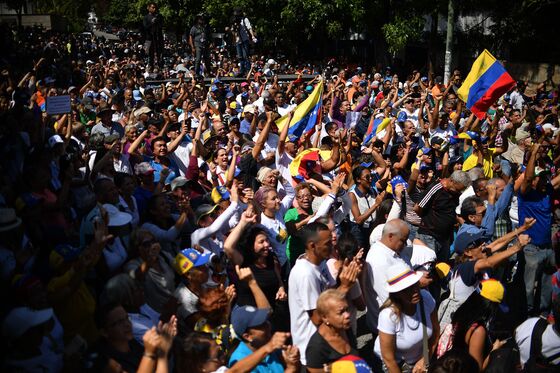 For all the enthusiasm for Guaido and his audacious idea about replacing Maduro, there's also a fair amount of confusion. In a bakery in the Chacao district, Jose Vergara took a break from brewing a pot of coffee behind the counter to set some customers straight: They'd been excitedly discussing the fact that Guaido had become president.
No, Vergara explained, there are a few more steps to make something like that happen. "We need the military," he said, "and protests."
The bakery is one of the businesses planning to close on protest day, so employees can be on the streets. Ely Toubia, a pediatrician at a school in western Caracas, said the administration gave the entire staff permission to take time off to march. "There is a lot of enthusiasm among my neighbors and my work colleagues," she said.
There isn't much concern about losing a day's wages. "With the money I make, I can't afford anything anyway," said a manicurist in a beauty parlor who gave only her first name, Nilsa.
Venezuelans had pretty much given up on publicly challenging the Maduro regime after the street protests of 2017 that drew millions, claimed hundreds of lives and resulted in thousands of arrests. With runaway inflation, shortages of food and medicine, long queues for goods that are available, rampant crime, water rationing -- people have been too despondent, and exhausted, to muster enthusiasm for organized opposition.
And to be sure, support for the Guaido movement isn't universal. More than a few Caraquenos have no idea who he is. There is a deep, and understandable, fear of the police and the security forces among most people. Maduro, Hugo Chavez's hand-picked successor, still has fans.
Dozens of them watched from a distance a few days ago as the opposition held one of its curbside "town hall" meetings in Caracas. Some 400 people showed up for the event in the slum of El Valle, by long tradition a Chavista bulwark, no doubt attracted by rumors Guaido would be there.
"This country will be free whether Maduro likes it or not," yelled a skinny man waving a Venezuelan flag, to great applause. The Maduro supporters yelled back, "Venezuela is not for sale!"
When Guaido is sure to make an appearance, the crowds can swell. Nasra Abdulo, an accountant at one of his recent rallies, looked around and did a head-count, pointing out that there were many hundreds in attendance -- "a sample of what's coming on January 23."