Disney's 'Eternals' Earns Worst Rotten Tomatoes Score of Any Marvel Movie
(Bloomberg) -- Walt Disney Co.'s "Eternals" -- one of the theater industry's best hopes for a holiday blockbuster -- is generating some of the worst reviews ever for a Marvel movie.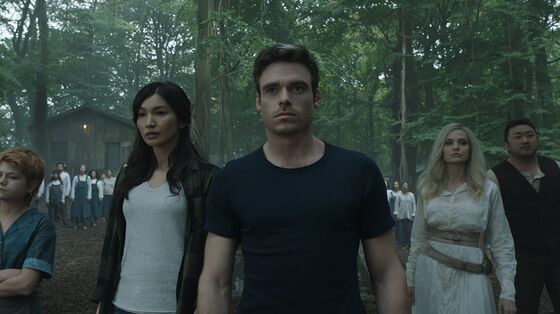 "Eternals may not be the worst of Marvel's movies, but it's undoubtedly the most disappointing," wrote Nicholas Barber, who gave the picture three stars at BBC.com. "Seriously, what a snooze," said Johnny Oleksinski in the New York Post.
Bad reviews aren't necessarily an indicator of box-office performance. "Venom: Let There Be Carnage" and "Halloween Kills," two of the top-grossing films last month, drew less-than-stellar commentary.
"Eternals," which hits U.S. theaters Nov. 5, marks the big screen debut for a lineup of relatively unknown superheroes from a comic series that first appeared in 1976. The cast includes Angelina Jolie and Salma Hayek. 
Boxoffice Pro, a website that tracks the industry, estimates $67 million to $92 million in ticket sales for the film's first weekend in North America. That's down 12% from the prior forecast. A key reason: "mixed critical reviews, which are impacting social media sentiment."
Still, "Eternals" won't face heavy new competition until Sony's "Ghostbusters: Afterlife" comes out on Nov. 19, according to Bloomberg Intelligence analyst Geetha Ranganathan. "'Eternals' may have long legs," she wrote in a research note Monday.