'Eternals' Debut Shows Limits of Superhero Power in Pandemic Era
(Bloomberg) -- Walt Disney Co.'s premiere of Marvel's "Eternals" looked like business as usual for a superhero movie. Hollywood Boulevard was jammed with costumed fanboys and fangirls, watching Angelina Jolie and the film's other stars pose for photos.
But that's where the similarities may end. In the past, Marvel films frequently brought in $100 million or more in opening weekend ticket sales domestically. "Eternals" will probably open to much less this weekend, the latest film to miss that bar in the pandemic era.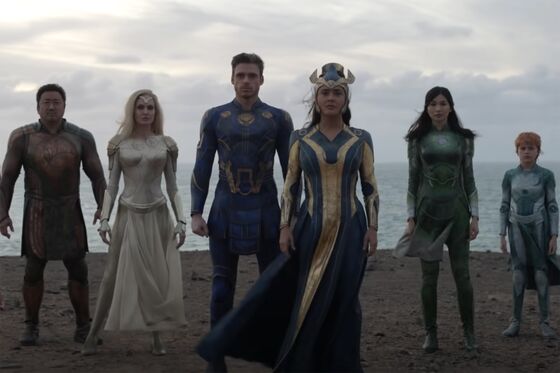 After shelving movies while theaters were closed, studios are finally releasing their big-budget pictures, only to confront pandemic-wary audiences and a changed theatrical world, with even Marvel feeling the pinch. 
"Eternals" is projected to take in ticket sales of $67 million to $92 million in its opening weekend in North America, according to Boxoffice Pro, which tracks the industry. "Mixed critical reviews" led the website to cut its original forecast by 12%.
Disney is estimating sales of $75 million. That would put "Eternals" third or fourth among the year's biggest debuts, and in line with say 2013's "Thor: The Dark World," which was also released in November.
"This might be one that doesn't work as well for them," said Doug Creutz, an analyst at Cowen & Co.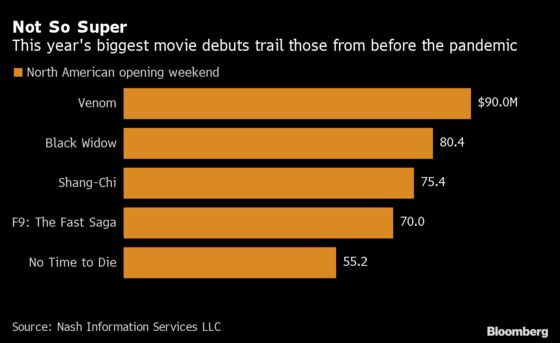 No one is hitting home runs in the movie business these days. Of the top films this year, only a couple approach what might have been a bona fide hit in years past. Universal Pictures' "F9: The Fast Saga" took in $721 million globally this year. The new James Bond film "No Time to Die" has brought in $608 million.
While theme parks are bustling and people are returning to restaurants, movie fans are wondering whether they need to see a picture in the theater, especially with all of the streaming options available.
Marvel mostly adhered to its tried-and-true formula for "Eternals" -- a buzzy director (Academy Award winner Chloe Zhao) leading a diverse cast in a $200 million production that spared little expense visually.
"Eternals" features a gay character and a deaf character, and is based on a comic series that first appeared in 1976. It's about a group of superheroes who secretly lived on Earth for thousands of years to protect against the so-called Deviants.
"It has a lot of things going for it," said Rich Gelfond, chief executive officer of Imax Corp., the big-screen theater company.
But the movie also suffers from the worst reviews yet for a film from the Marvel Cinematic Universe, with just 54% of critics recommending it, according to Rotten Tomatoes. 
The beleaguered theatrical industry regained its footing last month when it showed younger fans can be enticed to visit cinemas again to see films such as Sony's "Venom: Let There Be Carnage." October set a pandemic-era box-office high in North America, thanks in part to a film slate jammed with big-budget movies resembling a summer lineup. 
Even with a muted debut, "Eternals" is likely to be one of the top-grossing films this year, though it may fall short of Marvel's better-reviewed "Shang-Chi and the Legend of the Ten Rings" and "Black Widow." Monthly North American grosses are still below what they were prepandemic. 
The good news for cinema chains like AMC Entertainment Holdings Inc., Marcus Corp. and Cinemark Holdings Inc. is that "Eternals" will be exclusively in theaters for at least 45 days, and that should attract more of those costumed Marvel superfans.