'Don't Fight the Fed': High-Grade Debt Buyers Turn More Cautious
(Bloomberg) -- The seemingly insatiable investor demand for the safest corporate bonds is finally easing, just as the January issuance season revs up into full gear.
Five borrowers are tapping the U.S. high-grade market on Wednesday, after companies paid a whopping high nine basis points in average concessions Tuesday to bring $15.2 billion in new bond sales. That's more than quadruple the average concession last year, according to data compiled by Bloomberg.
The U.S. inflation report on Wednesday vindicates bets the Federal Reserve will start raising interest rates in March. The hawkish shift may weigh on order books and price premiums, according to Nicholas Elfner, co-head of research at Breckinridge Capital Advisors in Boston. The firm oversees $45 billion in assets.
"In a nutshell, don't fight the Fed," said Elfner Wednesday in an emailed response to questions.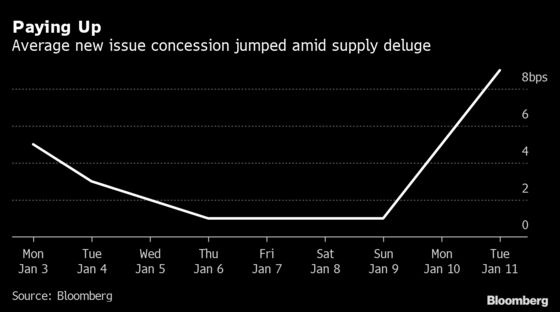 More than $87 billion in high-grade new issue supply has priced in the last six sessions as companies front-run rising interest rates. Meanwhile, order books have shrunk to 2.1 times the amount offered. (Order books can overstate actual demand for a security.)
That's eroding issuers' confidence that they can extract aggressive pricing on deals from a usually compliant investor base. Specialty investment firm Main Street Capital Corp. withdrew a $300 million bond sale on market conditions on Tuesday. 
Still the U.S. corporate debt market remains deep and will continue to enjoy demand from foreign buyers, insurers and pension plans, added Elfner in a sentiment shared by JPMorgan Chase & Co. 
"The technicals are getting stronger for overseas investors, as U.S. dollar bond yields are moving higher by much more than FX hedging costs," JPMorgan strategists led by Eric Beinstein wrote in a note Wednesday.