'Careless Customers' Pose Biggest Threat to Workers, Union Says
The union representing the nation's grocery-store workers is used to battling employers. Now, with supermarket staffers falling ill and dying from the coronavirus, it's focused on the growing threat from customers.
Since the outbreak, 30 members of the UFCW -- which represents over 900,000 grocery workers -- have died and almost 3,000 have been impacted by the virus, Marc Perrone, the union's international president, said Monday. With no nationwide policy in place regarding wearing masks while shopping at supermarkets, shelf stockers and cashiers risk getting infected on the job. More than eight out of ten workers surveyed by the UFCW said they've seen customers not practicing social distancing.
"There are definitely careless customers," Perrone said on a call with reporters. "They are probably the biggest threat we have right now."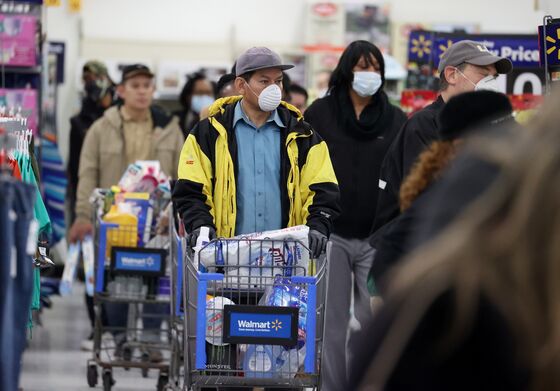 Over the past month, the nation's grocers have struggled to keep pace with unprecedented demand for food and other household essentials while simultaneously rolling out measures to keep their employees safe. Walmart Inc., Kroger Co. and other chains have installed plexiglass shields and one-way aisles, doled out masks and gloves to many workers and set limits on the number of customers allowed in at one time. Still, Perrone said those measures aren't enough, and he's appealed to both the Centers for Disease Control and Vice President Mike Pence over the past week to impose strict nationwide standards.
Some states and local governments, such as Los Angeles, Washington and New Jersey, now require customers to wear masks while shopping for food, but the patchwork of regulations has left many staffers feeling unsafe and exposed on the job, several of them said on the UFCW call. Two workers at a Chicago area Walmart have died from the virus, prompting a wrongful-death lawsuit from one of the worker's families, while Kroger said four of its workers in the Michigan region have passed away.
"The fear that we feel is absolutely real," Gregg Finch, a worker at a Stop & Shop supermarket in New York, said on the call. "We are asking everyone, understand the level of seriousness and help us keep each other safe. We do need to shop smarter."