'Black Swan' Author Says Young Traders Should 'Shut Up and Learn'
(Bloomberg) -- Nassim Nicholas Taleb isn't a fan of fake stocks trading on blockchains.
The former options trader, who predicted the 2008 financial crisis in his bestseller "The Black Swan," said decentralized finance, or DeFi for short, is managing to reinvent the bucket shop, referring to the firms that very early last century allowed everyday Americans to gamble on stocks without owning them.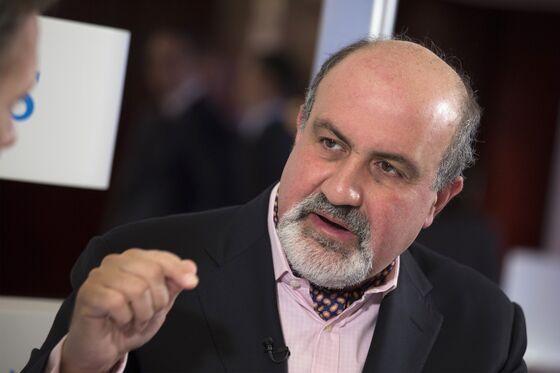 "The Twitter-educated youth should sit with surviving traders sipping aged brandy, shut up, and learn," Taleb said in a tweet on Tuesday from his private account.
Taleb made his comments while tweeting a Bloomberg report that described DeFi innovators building synthetic versions of equities that track some of the world's biggest companies.
Here's how it works. Fake versions of Tesla Inc., Apple Inc., Amazon.com Inc. and other stocks, as well as a few popular ETFs, have been created by the projects Mirror Protocol and Synthetix. The tokens, and the programming that allows them to trade, are engineered to reflect the prices of the securities they track without any actual purchases or sales of the real stocks and ETFs involved.
That's raised concern the new synthetic instruments will skirt various rules around the financial system, the very reason some of the proponents support the efforts. Potential users can trade tokens constantly and anonymously, without concern to capital controls or "know your client" rules that are key to broker-dealers.
Taleb has also been very critical of Bitcoin, describing it in February as a failure and said he was getting rid of his holdings.
A currency is never supposed to be more volatile than what you buy and sell with it, Taleb said at the time, adding that you can't price goods in the cryptocurrency. "In that respect, it's a failure (at least for now)."
Story Link: 'Black Swan' Author Says DeFi Manages to Reinvent Bucket Shops