Negative-Yielding Greek Debt? Investors Think the Unthinkable
From 45% to 1%. Is 0% next?
Greece's bond yields have gone from stratospheric during the height of the financial crisis to just above ground zero in less than a decade. Now investors are opening their minds up to the once-unthinkable: A yield of nothing and even paying to hold the bonds of the euro area's riskiest nation.
Vigilantes betting on Greece's bankruptcy are long gone. Its bonds have posted the best performance in the region over the last year, putting some 30% back into the hands of investors willing to bet on a Greek recovery and starved for yield. While still rated as junk by all three major debt agencies, Greece only needs one promotion into investment-grade status to gain entry to the European Central Bank's multi-trillion euro bond buying program.
If that happens, then 10-year benchmarks yielding 0.94% could get to zero, according to money managers. It's a process that most likely won't happen this year, but don't bet against it. Even five years ago few believed they'd grow to accept sub-zero yields from countries like Germany and Switzerland.
"It's hard to underestimate how desperate investors get when faced with sharply negative yields," said Mike Riddell, a money manager at Allianz Global Investors in London. "So I'd say anything is possible if the ECB feeds people yet more sugar."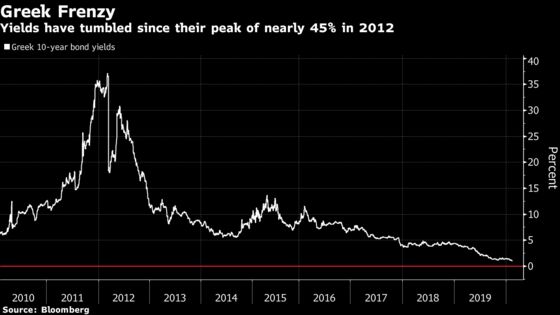 It's the latest sign that markets are moving further into uncharted territory in a gravity-defying rally.
Alongside tumbling Greek bond yields and paying to hold bonds across global government bond markets, U.S. stocks have hurtled to fresh record highs this week, while corporate yields have dived to all-time lows. And it's all playing out against worry that the coronavirus and simmering trade tensions will knock back global growth.
There are complicating factors of course. Greek bonds are still treated as a risk-on asset, much like equities, that rally when times are good and tend to sell off rapidly if sentiment turns.
Bets on recession have boosted the global stock of negative-yielding bonds -- yet the risk of holding a junk asset becomes harder to justify on the edge of an economic downturn. It's not unheard of, though. August's record pile of global sub-zero debt included a handful of junk-rated corporate bonds even with trade fears running high.
Meanwhile, Greece's own economy is showing green shoots, with an expansion of 2% expected for 2019, and some success in curbing debt to about 185% of GDP. That's paid off in the bond market, with a sale of Treasury bills at a negative yield in October and the first issue of 15-year bonds in more than a decade in January.
Russell Silberston, a money manager at Investec Asset Management, points out that before the financial crisis, Greek 10-year bonds traded with a premium over Germany of just eight basis points. While there's no suggestion that it could get to that level again any time soon, it does imply that the current 133-basis-point premium could have room to close, he said.
"If they got to 0%, the spread would still be above all-time lows," he said, adding that European markets are becoming increasingly distorted.