'Airbnb Queen' Says She's Caught Up in Platform's New York Feud
(Bloomberg) -- Airbnb Inc. declared a cease-fire last year in its long-running feud with New York City over short-term rentals. But for Martine Lacroix, the self-proclaimed "Airbnb Queen," the bullets are still flying.
The online home-sharing company spent years sparring with the city inside courtrooms and council chambers over a state law that forbids rentals of most apartments for less than 30 days. In June 2020, as Airbnb was preparing for its public markets debut, it settled a lawsuit against the city, agreeing to hand over personal data on its hosts so officials could more easily track those renting apartments in violation of the regulations.
A year after the agreement was reached, a summons was duct-taped to the front door of Lacroix's apartment in the Hell's Kitchen neighborhood of Manhattan. It said the Mayor's Office of Special Enforcement was suing her for allegedly running an illegal "de facto hotel" empire.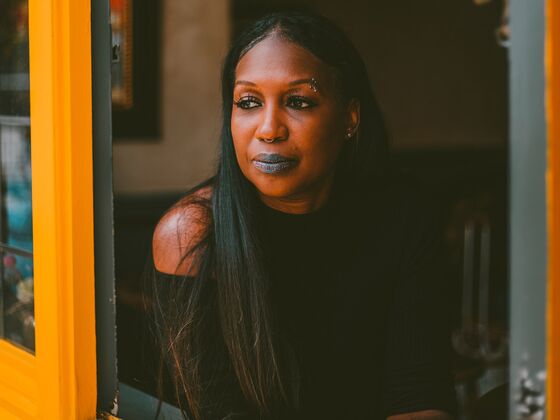 Lacroix, 50, leased at least 18 apartments in her neighborhood and rented them for short-term stays on Airbnb's platform, according to the lawsuit filed in New York Supreme Court seeking more than $1 million in damages. The city accuses her of engaging in deceptive trade practices and advertising illegal rentals—allegations Lacroix has denied. A motion for a preliminary injunction barring her from listing on any platform is pending.
The civil complaint says Lacroix created at least 10 Airbnb host accounts, some using her middle name or her initials, in order to circumvent local laws. Other accounts purportedly used false addresses. Lacroix asked guests to lie and say they were visiting friends if neighbors or officials inquired, the lawsuit states.
Lacroix acknowledged in an interview that she broke the law, calling it a petty regulation that forced her to operate her business underground "like a criminal." Her decade-long operation, which she has boasted on social media grossed more than $5 million, shows how easily hosts could circumvent the rules. When landlords evicted her for illegal rentals, she moved into another building. When city officials fined her, she paid the $1,000 fee but continued renting. When Airbnb banned her in 2018 for violating its policies, she opened a new account under a different name. 
Sam Randall, a spokesman for Airbnb, which is not a party to the lawsuit, said the company banned Lacroix "because this behavior has no place on Airbnb." He didn't respond to questions about how she was able to get away with violating a policy in place since 2015 forbidding New York-based hosts from listing more than one apartment on the platform.
Lacroix, who ran her business mainly on Airbnb but also used platforms including FlipKey, Expedia and Booking, said her operation was legal when she started it in 2010. That year New York state amended its Multiple Dwelling law to create one of the strictest short-term rental regulations in the country. 
Lacroix said she was advised by a lawyer at the time to stop renting on Airbnb but decided to take a gamble. "I don't think I've done something wrong," she said. "I've done something that broke the law. Doing something wrong is like stealing, but then there are laws that are petty. On paper it's wrong, but this is a petty little law that no other city has but New York." She has been more brazen on social media, where she calls herself the "Airbnb Queen" and a "lawless entrepreneur." 
Lacroix's lawyer, Brandon McKenzie, described his client as a small-business owner caught in the crossfire between New York and Airbnb. "The city has tried repeatedly to pass legislation or regulations on short-term rentals," McKenzie said. "And each time they tried to do this, either the legislation has failed or it's been subject to court challenges and hasn't withstood judicial scrutiny." He argued at an Oct. 12 hearing on the injunction that Lacroix hadn't rented any apartments on Airbnb since late 2019.
That was the year the city boosted the annual budget of the Mayor's Office of Special Enforcement, known as OSE, to $8 million a year, urging it to take more action against illegal operators. Lacroix is the 18th building owner or private operator sued by the city as part of its campaign. 
"The scope of harm alleged in this suit is staggering," said Christian Klossner, OSE's executive director. "While presenting herself as a successful hospitality entrepreneur, the defendant in this case was actually running an elaborate money-making scheme defrauding thousands of customers, all the while generating income for the online platforms that turned blind eyes to her illegal activity."
Klossner said his office has been forced to target individual operators, such as Lacroix, instead of Airbnb, because a federal law shields online rental companies "from being held liable for the illegality of the content published by their users—even when that content turns into revenue for the platform." 
That law, Section 230 of the Communications Decency Act, also protects Airbnb from legal responsibility for what happens inside its listings. Earlier this year, Bloomberg published several stories about violent crimes that occurred at Airbnb properties and the company's secretive response team that works to protect victims. In recent Bloomberg Television interviews, the chief executives of Expedia and Airbnb have both said they're willing to begin sharing information with one another about dangerous listings to help prevent problematic users from simply moving among platforms.
While there were no reported security incidents at any of Lacroix's apartments, the city argued in its lawsuit that she put tourists' safety at risk. Unlike hotels, residential apartment buildings aren't designed for transient use and generally do not have the same number of fire exits, alarms or sprinklers. The city also said mixing permanent residents with tourists posed "security risks in buildings not equipped to handle the security problems."
In the end, Lacroix said it was the pandemic that shut her down. When it did, she applied for nine U.S. Small Business Administration Covid-relief loans claiming she ran a tour operation that employed 27 people, according to the city's lawsuit. She received $416,000, the complaint says. Lacroix said about $100,000 of that went to cleaners and a handyman she employed. She kept $120,000 for herself, she said, and the rest is still in a bank account.
In June, the city sent a letter to the SBA informing it of "potential improprieties" relating to Lacroix's loans. A spokesman for the agency declined to comment about individual borrowers.
Professional hosts like Lacroix present a problem for Airbnb. Despite pulling in about 30% of room nights booked, they counter the company's public image of everyday homeowners renting out spare bedrooms. And they threaten Airbnb's often tenuous relationship with city officials. Since it was founded in 2008, Airbnb has been lobbying against short-term rental regulations in cities around the world. The battle has been particularly fierce in New York, where officials estimate one-third of Airbnb's 55,000 listings violate the law. 
Randall, the Airbnb spokesman, said the company has "long wanted to partner with both the city and state governments to implement sensible short-term rental laws to ensure home sharing can continue to play a vital role in the return of tourism to the Empire State."
Lacroix said she's not surprised that the city came after her. "I thought they were going to shut me down back in 2012, but they never shut me down," she said. 
Lacroix estimated that she has been evicted from about 50 buildings over the years. She said she was kicked out of almost all the apartments she was leasing before the pandemic and hasn't restarted her business. "No host wants to do what I did for 10 years," she said. "It is so stressful to be running a business that you feel is honorable, but to be told it's illegal."
She has now decided to move her short-term rental operation to the Caribbean and is offering online consulting services to "share the secrets behind a successful Airbnb strategy," according to her website. Her advice to wannabe entrepreneurs looking to build their own Airbnb empires: "Watch the law."