$276 Billion of U.S. Debt Sales Is Just Another Week Now
(Bloomberg Opinion) -- It wasn't so long ago that bond traders were obsessed with the increasing size of U.S. Treasury auctions and how the deluge of supply would affect interest rates in the world's biggest bond market. Now, not so much.
The Treasury Department is issuing $276 billion in debt this week, spread out among bills, notes and floating-rate securities. That's not quite a record — that would be the $294 billion it borrowed at the end of March — but the schedule still has its superlatives. The $38 billion two-year auction, $39 billion five-year offering and $31 billion seven-year sale are each the biggest for those maturities since mid-2010, when the U.S. was in the process of cutting back its post-crisis fiscal stimulus.
And yet, few if any strategists made a big deal of this week's slate. Maybe the sticker shock of some of these figures has just worn off. As a reminder, the Treasury said this month that the country's budget deficit grew to $779 billion in Donald Trump's first full fiscal year as president, the highest since 2012, and the government paid an unprecedented $523 billion in total interest during that period. Meanwhile, the Treasury market has grown to $15.3 trillion even as large holders like China and Japan pare back their exposure.
A combination of those factors had Rick Rieder, global chief investment officer of fixed-income at BlackRock Inc., saying this about Treasury auctions back in May:
"What's going to happen at these auctions — how many auctions fail because we cannot absorb this much debt that they have to put into the market? … It's a question of how you define failing, but you've had some really sloppy auctions."
It hasn't gotten much better since then. Last month's two-year auction matched the lowest bid-to-cover ratio for the maturity since December 2008. The measure reflects demand — the more bids the U.S. has relative to the amount of debt sold, the more likely it is to get favorable borrowing costs — so a low number isn't good. September's five-year auction had the weakest ratio this year.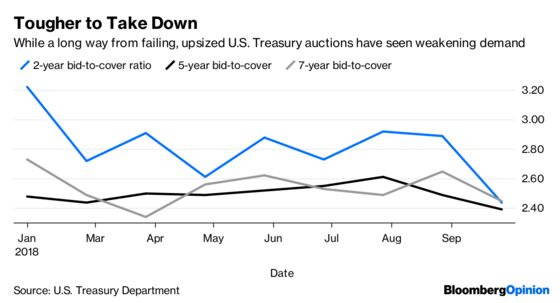 On the one hand, it's natural to expect the bid-to-cover to slip as auction sizes (the ratio's denominator) keep going up. But you'd also expect the highest yields in a decade to entice buyers. That just hasn't been the case, whether that's because investors expect the Federal Reserve to keep raising interest rates, or because they know they'll have to absorb even larger debt sales down the road.
At the same time, they haven't come remotely close to truly failing — that is, the bid-to-cover falling below 1. No sale of 10-year auctions since at least 1983 has come closer than 1.22, a low mark set in October 2008 and May 2003. The two-year note's ratio hit 1.31 in June 2002. It was 2.44 last month.
Ian Lyngen at BMO Capital Markets perhaps best captured the general apathy over these auctions. "Despite ballooning borrowing, we have not seen any serious case of supply indigestion thus far," he wrote in a note Monday. "That widely held fear in the beginning of the year has been quelled by headline results that have been nothing if not decent — a trend we expect to continue."
In other words, it might not be pretty, but the auctions will get done as they always do. An extra $1 billion here, an additional $1 billion there. It's just another week for the Treasury market.
This column does not necessarily reflect the opinion of the editorial board or Bloomberg LP and its owners.
Brian Chappatta is a Bloomberg Opinion columnist covering debt markets. He previously covered bonds for Bloomberg News. He is also a CFA charterholder.