Yuan Volume Tops 2015 Peak Despite Flat Exchange Rate
(Bloomberg) -- Dollar-yuan trading volume surpassed the frenzied levels seen during the 2015 devaluation on Wednesday, amid signs China is trying to prevent its currency from weakening too fast.
Volume was up 27 percent at $66 billion as of 5 p.m. local time, the most since Bloomberg began compiling the data in 2014. The yuan remained resolutely flat at 6.9414 per dollar, even as surging turnover and volatility continue to rock the Chinese stock market.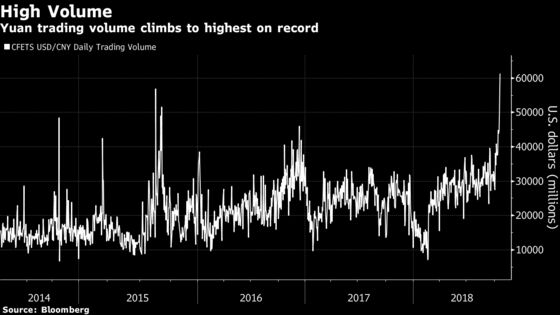 Traders attributed the high volume to market makers offering large orders with narrower-than-usual spreads. A few big Chinese banks sold dollars after the yuan briefly dropped below 6.94 per dollar on Wednesday afternoon, according to four traders, who asked not to be named because they aren't authorized to talk publicly on the matter.
The yuan has fallen more than 9 percent in the past six months and on Monday it closed at its weakest since January 2017. The currency eked out a 0.05 percent gain yesterday. China's stock market, meanwhile, has become the most volatile in the world. The Shanghai Composite Index closed up 0.3 percent Wednesday after falling 0.7 percent and rising as much as 1.8 percent intraday.