Yuan's Record Slide, Japan Overtakes: A Week in China's Markets
(Bloomberg) -- The yuan's losing streak enters record territory, doing China's equity market no favors as Japan's becomes the second largest in the world. And Tencent Holdings Ltd. sinks even further. Here's a roundup of what we've been talking about in China markets this week.
The yuan has fallen for eight straight weeks, the longest such run since China's modern exchange-rate regime started in 1994. It has weakened around 7 percent against the dollar since early June and is near the lowest on record against a trade-weighted basket of currencies. There's no sign of a let up, with U.S. Commerce Secretary Wilbur Ross signaling more trade pain ahead unless China changes its economic system. Investors are now watching for the yuan to breach the 7 per dollar mark. The prospect of a stronger dollar and weaker yuan in the second half of 2018 could prove painful for emerging markets.
China's Pain, Japan's Gain
The yuan's weakness has played a part in the decline in Chinese stocks, which in turn has given Japan fresh bragging rights. Thursday marked the moment, as China's market cap dropped to $6.09 trillion, below Japan's $6.17 trillion. That put Japan in the No. 2 spot behind the U.S., which is streets ahead at $31.04 trillion. China's stock market first outgrew Japan's in late 2014, and managed to hold its lead through bouts of yuan weakness in 2015 and 2016. This time, the combination of the trade spat and a deleveraging campaign at home were too much to overcome. There may still be some upside in China though, with low valuations and surging buybacks giving stock bulls reason to hang in there.
Read more:
The bull case for China stocks
Tencent Has Another Bad Week
One of the main culprits for the weakness in Hong Kong's equity benchmark is Tencent. The technology giant, like the yuan, fell for an eighth week, its worst run on record. The Chinese company has lost more than $150 billion of market value since late January. There's plenty to fret over, including concerns about slowing growth at its gaming unit, a global selloff in tech stocks, and even the trade war malaise -- enough for Morgan Stanley to take Tencent off its Hong Kong, China and Asia-Pacific ex-Japan focus lists this week. While some have cut their price targets on the stock, all 51 analysts tracked by Bloomberg are sticking with their "buy" or equivalent ratings on the company.
Read more:
Off Morgan Stanley's focus lists
As volatility swirls through China's markets, the country's leadership is sharpening its focus on keeping the economic engines running. A communique following a meeting of the nation's most senior figures said China's campaign to reduce debt will continue at a measured pace, while pledging to make economic policies more forward-looking, flexible and effective. It also called for more focus on infrastructure construction. There's no sign Beijing will back down from Trump's tariff threats, with the Ministry of Commerce vowing Thursday to "retaliate to defend the nation's dignity."
To put this week's stock market losses in context, take a look at this chart showing China's slice of the global value pie at the smallest since February 2015. Click here for the full story.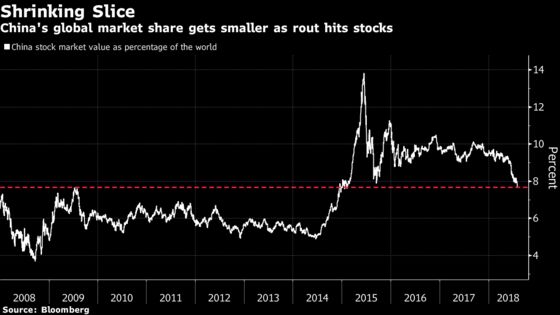 Here's what else caught our eye this week.
China's vaccine scare is taking its toll
Investors souring on Chinese brokerages
Flood of IPOs coming in Hong Kong
Country Garden slides after fatal accident
Moutai still looks good to analysts
A range of views on the Politburo meeting
China sovereign bonds can't escape declines
The heat is coming out of China IPOs
Infrastructure stocks still in demand