Your Crash Paramedic May Pull Up in This Electric Three Wheeler
(Bloomberg) -- Bike crash victims may look up from the asphalt to see a paramedic arriving in an electric three wheeler unveiled Friday by micro-cap company Arcimoto Inc.
The aim of the tiny vehicle, dubbed the Rapid Responder, is to get lifesavers to emergencies fast. It's small footprint, maneuverability and instant torque will allow EMTs and police to zip through congested city streets. The three-wheeler is a specialized version of company's commuter three-wheeler.
"You can have someone on the scene who can deliver medicine, deliver first aid support as quickly as possible," said Arcimoto founder Mark Frohnmayer in a phone interview.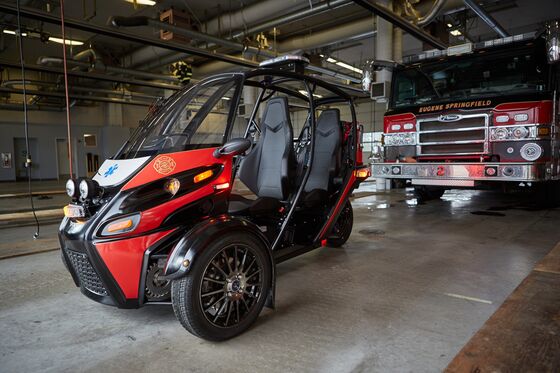 Arcimoto began accepting reservations last week for the everyday FUV Evergreen Edition in Oregon, California and Washington, with first customer deliveries slated for spring. The three-wheeler, priced at just under $20,000, took more than a decade to develop, and Arcimoto described it as an "American-made solution to the two greatest challenges facing the world today: global warming and getting groceries."
Investors appear to be responding positively to news surrounding three-wheeled electric cars. On Wednesday, Bloomberg reported on Electrameccanica Vehicles and its Solo car, which has $2.4 billion in pre-orders. Shares of the Canadian auto maker soared 220 percent that day. One day later, shares of Eugene, Oregon-based Arcimoto spiked 109 percent, a move that coincided with a Bloomberg video about Arcimoto and Frohnmayer.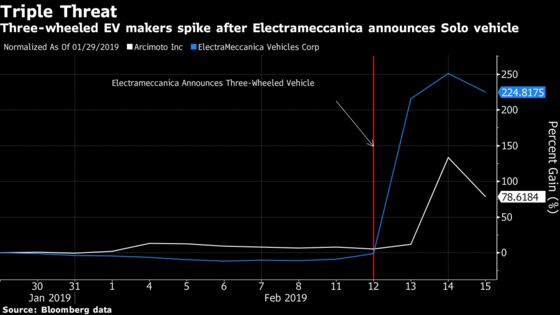 Deliveries of the Rapid Responder are expected next year. The company has agreed to test the vehicle in pilot programs, including one with the Eugene Springfield Fire Department. Fire Chief Joe Zaludek is looking forward to the potential to reduce costs with the Rapid Responder. And he said there are other pluses.
"The Rapid Responder will have the added benefit of being a real hit at the annual Christmas Light Firetruck Parade," Zaludek said in a statement.