You Can't Always Count on Sterling to Bail Out U.K. Stocks
(Bloomberg) -- For a long time, British investors watching their currency depreciate on Brexit setbacks could count on one thing: at least the U.K. stock benchmark was going up.
Since the 2016 vote, the FTSE 100 index has maintained a negative correlation with sterling, meaning that the benchmark gains whenever the currency falls. That's because the U.K. large-cap index is stuffed with global giants, whose overseas earnings benefit from a weaker pound.
Thursday provided an illustration of how this isn't always reliable: the FTSE 100 fell as much as 0.8 percent, even with the pound plunging as much as 1.9 percent at one point. Sure, the gauge still outperformed the European benchmark, but a slide in domestic stocks like Lloyds Banking Group Plc and Legal & General Group Plc was so sharp that it dragged the index down for a large part of the day.
This points to the possibility that even a weaker pound may not be enough to bail out U.K. stocks as the odds of a no-deal Brexit rise. Growing concerns over a chaotic departure could weigh on domestic shares further and discourage already reluctant global funds from buying the equities. Compared to 2017, the negative stock-currency link has already weakened and even briefly turned positive last quarter.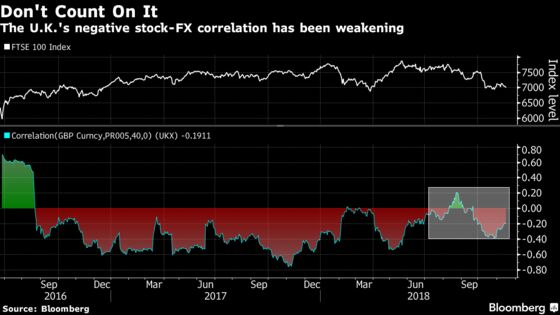 "The idea that a fall in sterling will necessarily cushion all the biggest U.K. companies -- I wonder if that will be the case if it's associated with heightened risk," said Sharon Bell, an equity strategist at Goldman Sachs Group Inc. in London.
In case of a no-deal Brexit, the correlation between the FTSE 100 and the pound may turn positive, meaning that U.K. stocks fail to outperform whether there's a deal or not, Barclays Plc strategists led by Emmanuel Cau wrote in a note. Sectors with large dollar earnings like staples, health care, energy and mining might benefit most, they said.