YOLO Army Gets Hit by Volatility as Speculative Stocks Whipsaw
(Bloomberg) -- A hawkish turn from Jerome Powell just as fresh pandemic jitters break out is pummeling the most speculative investing strategies in this era of the bull market.
Think Cathie Wood's ARK Innovation ETF, new market debuts, meme stocks -- and futuristic tech companies with great promise but zero profits. All these investing bets have dropped at least 6% this week as the dual threat of higher rates and Covid restrictions undercuts appetite for risky names. 
It's an unwelcome shift for investors expecting a Santa rally to juice anew the S&P 500's 20% gain this year. But trading this week is proving decidedly volatile thanks to fresh signals the Federal Reserve is squarely focused on fighting inflation and as the new variant of the virus spreads.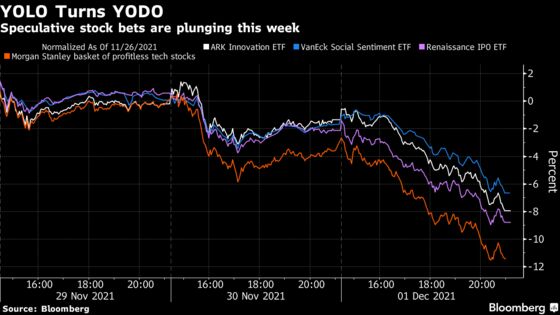 Both stay-at-home and re-opening shares have plunged about 5% this week, while defensive trades like low volatility and quality have risen. 
In Thursday trading, U.S. stock futures are signaling another choppy session as the tech-heavy Nasdaq 100 lags the Dow Jones Industrial Average and S&P 500. 
"When you've got downside risks to growth predominantly -- and you've got a Fed which is biased toward a significantly tighter monetary policy -- then we are much less constructive on risk assets than we were as a result of that," said Peter Chatwell, head of multi-asset strategy at Mizuho International.
Powell reinforced on Wednesday his message that officials should consider speeding up the withdrawal of policy support. Meanwhile, the spread of the omicron variant including to the U.S. has stirred fears restrictions may tighten further and hinder an economic recovery that's been robust so far. Between higher borrowing costs and economic uncertainty, the appetite to take big risks has shrunk.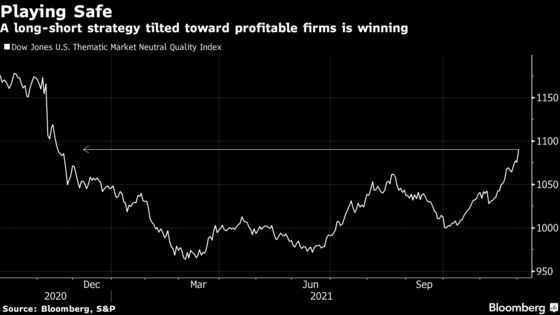 In another risk-off move, the Russell 2000 Index of small caps is trading at the lowest versus the S&P 500 in a year. If you slice and dice the broader U.S. market by credit ratings, stocks with junk grades have increasingly trailed high-grade ones since November, according a 22V Research note. 
Strategists at the firm say there's room for volatility to ease, and tout cyclical shares that are volatile but retain strong earnings outlooks, such as Bath & Body Works Inc. and Advanced Micro Devices Inc. But the indiscriminate risk-taking in retail-favored names is falling out of fashion.  
"A replay of the junk rally from earlier in the year seems unlikely given omicron (known unknown) and the medium-term outlook for inflation (combination of known and unknown knowns)," a team led by Dennis Debusschere wrote Wednesday afternoon.
All the same speculative stocks have shown resilience over the past year, thanks to rates still at historic lows and enduring demand among growth investors to bet on new disruptive technologies -- a trend intensified by the pandemic. The ARK ETF dropped to a six-month low in May only to rebound 30% in less than two months when bond yields fell again. 
And the monetary outlook is harder to read in the long haul. The two- and 10-year Treasury yield curve is now the flattest since January with long-end rates slipping -- a potential sign traders aren't expecting inflation to stay elevated for too long.
In the meantime, the YOLO crowd has to live with a resurgence in stock swings across the board.
"One result of the upward move in volatility and uncertainty has been a rotation out of the riskiest assets," the 22V team wrote.