Yields at 3% Don't Entice Some of the Biggest Treasury Fans
(Bloomberg) -- It seems it's once bitten, twice shy for Japanese investors in the U.S. Treasury market - and the tale of Shizuoka Bank explains why.
Having booked a loss from U.S. debt holdings last year, the regional lender is in no rush to load up again, even with a 10-year yield near the highest since 2011. The bank's experience goes some way to show why Japan, once the biggest holders of Treasuries, still seems unwilling to embrace the American bond market.
"With U.S. yields expected to rise, we need to be cautious, watching markets," said Shizuoka Bank President Hisashi Shibata, 54, in an interview in Tokyo. "We need to be aware of the risk of yield inversion and avoid being stuck with valuation losses from foreign debt, and even if we do, we need to make sure we secure a spread so we can hold to maturity."
The bank posted a 37.3 billion yen ($340 million) loss from bonds - mostly U.S. government debt - in the fiscal year to March 2017, the largest among Japan's top five regional banking groups. Treasuries slumped following Donald Trump's election victory in November 2016, with the 10-year yield rising as much as 75 basis points in five weeks.
Cut to this year - Treasuries are slumping again and the 10-year yield has breached 3 percent on expectations for three or possibly even four rate increases for the year from the Federal Reserve. And in other markets such as Europe, political risks have returned to the forefront, prompting the Japanese lender to be cautious. Italian 10-year yields have climbed more than 60 basis points this month alone as populists there seek to form a government and ramp up spending in a direct challenge to the European Union establishment.
"We won't significantly boost euro bonds, just keep investment within a controllable size," said Shibata on Monday. "We won't consider Italy or such even for a spread, as we can't invest in products where we can't properly gauge the situation."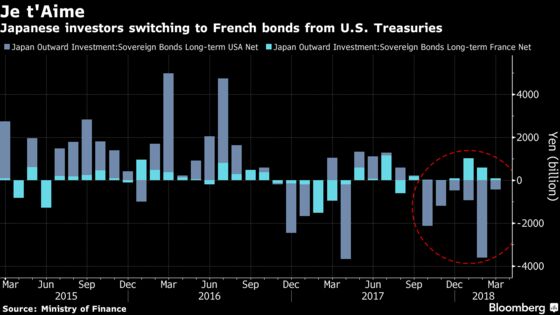 Of the 257 billion yen in foreign debt it held in March, roughly 90 percent was in U.S. securities and 10 percent in Europe, mostly France, according to the bank. That compares with about 640 billion yen in international securities two years previously.
The bank does have some room to add to foreign debt holdings, according to Shibata. It will use the Treasury market and U.S. mortgages as a source of carry income, while looking at European countries such as France to chase spreads, he said.
On the funding side, with uncertainty over short-term costs, Shizuoka has been diversifying its dollar-funding channels by issuing bonds or selling investment trusts in the U.S. currency, Shibata said. The lender also plans to beef up its fee businesses to boost income, he said.
The spread between short-term dollar-funding costs and longer-term rates has narrowed to the lowest in nine-and-a-half years, and costs for Japanese investors to hedge against a rise in the greenback rose earlier this month to the highest since 2008.
The bank's total funding margin, the spread between income on loans or securities investments and funding costs, and a key gauge of profitability, was steady at 0.27 percent in fiscal 2017 compared to 0.26 percent the previous year, according to financial statements.
However, the interest margin from loans has fallen to 1.14 percent from 1.26 percent in three years. Shibata said the bank expects it to fall to around 1.11 percent in the first half of the fiscal year before steadying.
Treasuries are not the only securities Shizuoka is wary of this year. The bank doesn't plan to actively boost its yen bond holdings, rather keep them close to last year's level of around 600 billion yen. The yield on Japan's benchmark 10-year government note traded around 4 basis points on Friday.
"Yen bonds are not attractive in terms of carry income or yield levels," Shibata said. "But there is a need for owning government bonds as collateral at the BOJ or as a risk hedge for stocks. We are keeping a minimum and reallocating some from redemptions."