Yen Trampled by 'Unstoppable' Dollar Risks Fresh Bout of Selling
(Bloomberg) -- The yen declined to its lowest in more than four years as upbeat economic data in the U.S. bolstered bets for earlier policy tightening and diverged further from Japan's easy monetary stance.
Japan's currency fell to 114.97 per dollar, its lowest since March 2017, to close in on the psychologically important 115 level. The losses were spurred by a sharp rise in the dollar and Treasury yields following a jump in U.S. retail sales by the most since March. 
"Dollar's surge appears unstoppable as it is justified by strong U.S. data," said Yukio Ishizuki, a senior currency strategist at Daiwa Securities Co. in Tokyo. "Once 115 is reached, fresh dollar demand may emerge as the pair enters a new range."
UBS Group AG., HSBC Holdings Plc. and Bank of America Corp. are also forecasting dollar gains while asset managers like Invesco Investment Solutions have already added long dollar positions against the Japanese currency.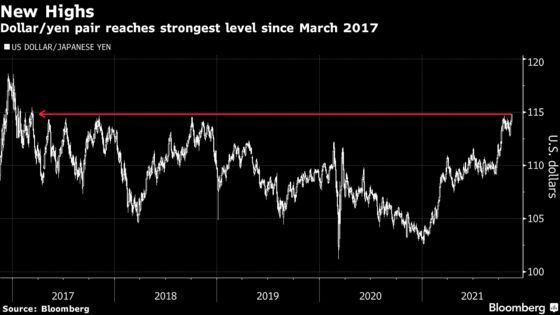 The yen has slid more than 10% so far this year, making it the worst performer among the Group-of-10 currencies. The Bank of Japan has maintained one of the most dovish monetary policy stance among major central banks, while the Fed has begun tapering its asset purchase program and speculation has been mounting that officials might need to adopt an even more hawkish position in response to accelerating consumer-price gains.
"There's quite a lot of dollar buying options lined up at 115," said Akira Moroga, manager of currency products at Aozora Bank Ltd. in Tokyo. "Once 115 is broken, there is no significant technical barrier until 118, so there is a potential for an overshoot of 115.50 immediately."
The yen moved in a range of 114.70-114.97 per dollar on Wednesday after falling 0.6% in the previous session. The spread between two-year Treasury yields and comparable Japanese bonds widened to its largest since March 2020. 
The greenback will advance broadly against currencies including the euro and the yen in the coming year, according to UBS and HSBC, while Bank of America said that the inflation-fighting U.S. central bank could be a boon for the dollar. Alessio de Longis, a senior portfolio manager at Invesco, in October moved to an overweight position on the dollar versus the euro, the pound, and the yen.