When Markets Get Messy, Yen Wins Out Over Franc
(Bloomberg) -- There's only one trade to make in foreign-exchange markets when investors are running away from risk: buy the yen.
That's the view of analysts at Citigroup Inc. who compared the performance of the Japanese currency with the Swiss franc on days when the S&P 500 Index incurred losses of 2 percent or more. While Switzerland's currency was clearly the better haven before the global financial crisis of 2008, the yen has "emphatically" taken the top spot since then, according to a note from analysts including Calvin Tse.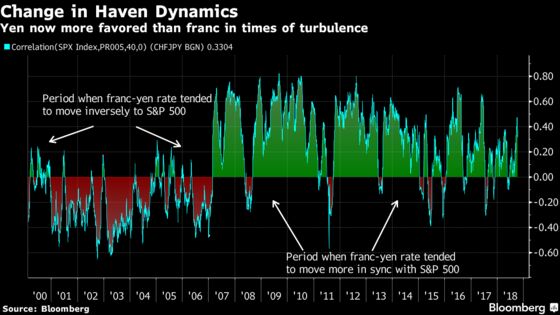 The yen certainly proved itself to be the stronger of the two over the past week. It surged by more than 1.3 percent against the greenback in the five trading days through Monday, a period that saw the American equity benchmark record two consecutive daily declines of more than 2 percent. The franc rose just 0.5 percent over the same period.
"With the outlook for market volatility to stay high going into the end of the year, more frequent bouts of risk aversion are likely to emerge," the Citigroup analysts wrote. "There is only one standout safe haven currency to own."
Citi's analysis shows that when the epicenter of risk aversion is in Europe, the yen tends to outperform the franc, debunking conventional wisdom that the Swiss currency should benefit in such situations. For Asia-focused episodes, there is no clear bias between the two.
For a story on the franc as haven, click here.
The analysts highlight several potential reasons for the yen assuming the mantle of top shelter from 2008 onward, including greater position short-covering for the yen, changes to Swiss banking regulations and the cheapening of the yen against the franc. They also pointed to a larger pool of Japanese assets abroad, which allows for greater repatriation than in the case of Switzerland.
Differences in central-bank FX policy are also key. The Bank of Japan has intervened in currency markets on just eight days since the crisis, while the Swiss National Bank has gotten involved on a regular basis in a bid to check franc strength, the analysts said.
"With the JPY being cheap, the Japanese having the largest private net international investment position in the world, and the BoJ taking a non-interventionist approach, there's only one FX trade in risk off – you buy the JPY," the analysts wrote.