Yen Haven Status Eclipsed by Japan Hunger for Foreign Stocks
(Bloomberg) -- An increase in Japan's appetite for risk assets overseas is having an outsized impact closer to home -- on the traditional safe haven status of the yen.
Accelerating demand for foreign equities by Japanese investors is one factor behind the unexpected slide in the nation's currency, down more than 5 percent since the end of March. It has helped push the yen close to a year-to-date low against the dollar, undoing its standing as a refuge for traders in an environment of escalating trade tensions between the U.S. and China.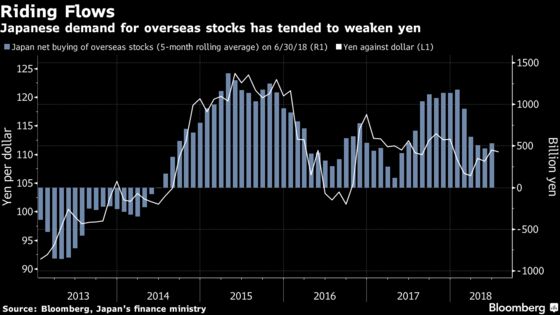 The Japanese have been net buyers of foreign stocks every week since the end of March, and purchases reached a record 985 billion yen ($8.7 billion) in the five days ended June 29, according to data from the Ministry of Finance. The yen is the third-worst performing Group-of-10 currency since the beginning of April.
The yen traded at 112.82 per dollar as of 3:39 p.m. Tokyo time Thursday. It had breached the 113 level Wednesday for the first time since January.
"Outflows from Japan including those for overseas stocks have been playing a large role in the recent weakness in the yen," said Ayako Sera, a strategist at Sumitomo Mitsui Trust Bank Ltd. in Tokyo. "The U.S. economy is in a good shape and corporate earnings are very good."
Japanese investors have been shunning their traditional home of U.S. Treasuries as rising costs for currency hedging and falling bond prices limit their appeal. Conversely, American equities look increasingly attractive with expected earnings growth of 27 percent in the next 12 months, compared to 12 percent for European shares and just 6 percent for Japanese stocks.
The S&P 500 Index has risen 13 percent on a yen basis since the end of the first quarter compared to a 0.6 percent decline in U.S. Treasuries, after accounting for hedging costs.
"Equity buying is generally kept FX unhedged," Mallika Sachdeva, currency strategist at Deutsche Bank AG in Singapore, wrote in a research note last week. "For Japanese pension funds with steadier hands, global market weakness might be seen as a buying opportunity, dampening the dips in USD/JPY on risk-off moves.''
Banks' trust accounts -- often seen as a proxy to pension funds -- were the biggest buyers of overseas stocks during the second quarter among the investor classes tracked by the finance ministry.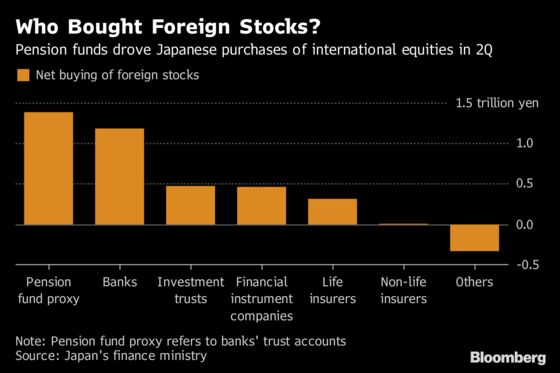 Japans' Government Pension Investment Fund, the world's biggest, allocated about 24 percent of its 162 trillion yen worth of assets to overseas stocks as of March 31, almost the same as domestic equities, according to its latest performance report released this month.
"The GPIF, which tends to serve as the industry benchmark, is globalizing its portfolio, so other pension funds are largely following the GPIF's move," said Norihiro Fujito, a senior strategist at Mitsubishi UFJ Morgan Stanley Securities Co. in Tokyo. "This trend will persist and contribute to a weaker yen."