Yawning Currency Gap, Oil-Production Funk Cause Chaos in Angola
(Bloomberg) -- Angola is making little progress in ending a dire scarcity of foreign exchange.
The OPEC member has been gripped by fuel shortages over the past few weeks that are forcing Angolans to queue for hours at gas stations.
State oil company Sonangol has blamed it on a lack of hard currency, which is hampering the southern African nation's ability to pay for imported goods.
The government devalued the kwanza by almost 50 percent against the dollar last year in a bid to ease the pain. But markets are suggesting that's nowhere near enough -- and the dearth of gasoline attests to that.
The kwanza trades at 460 against the greenback on the black market, according to kinguilahoje.com, a local website. That's around 30 percent weaker than the official rate of about 325.
The gap between the two rates is getting bigger, widening to around 135 kwanzas from 80 since the start of 2019.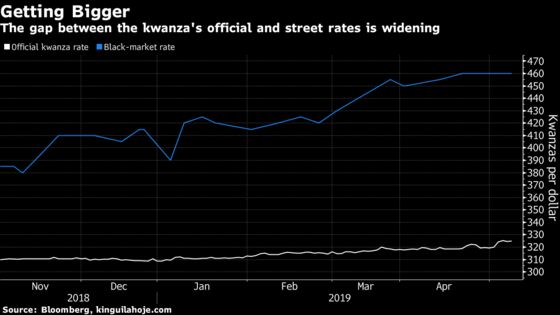 A slumping oil industry isn't helping. Crude production fell to 1.4 million barrels a day in April, the lowest since at least 2007.
The currency and fuel chaos are heaping pressure on President Joao Lourenco, who'd won praise from international investors for his reforms since taking over from long-standing leader Jose Eduardo dos Santos in late 2017. His office said Tuesday it was working to end the supply disruptions within a few days.
Dos Santos' daughter Isabel, who Lourenco fired as head of Sonangol after coming to power, tweeted a photo on Tuesday of people queuing and said the fuel shortages would soon cause mass power cuts.