Yardeni Cuts S&P 500 Target While Dwyer Postpones 3,200 Call
(Bloomberg) -- Two of Wall Street's biggest bulls are toning down their enthusiasm amid the worst month of the bull market.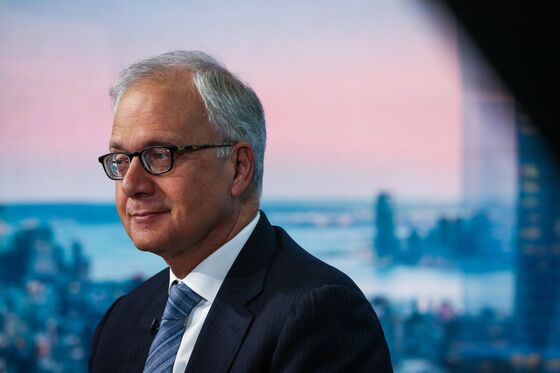 Ed Yardeni, the president and founder of Yardeni Research Inc., cut his year-end forecast for the S&P 500 Index to 2,900 from 3,100. Profit growth will slow more than expected and companies will earn $170 a share next year, not the $178.30 estimated by analysts, he said in a research note.
Tony Dwyer at Canaccord Genuity, whose 2018 target of 3,200 was the highest among all strategists tracked by Bloomberg, said that prediction is now more likely to come true next year. The S&P 500 will finish the year somewhere between 2,900 and 2,950, he said.
Strategists are turning cautious on U.S. stocks. The S&P 500 is on the brink of falling into its second 10 percent correction of the year amid concerns over trade tensions and a more hawkish Federal Reserve. Earlier this month, Ned Davis Research downgraded American equities to market weight from overweight.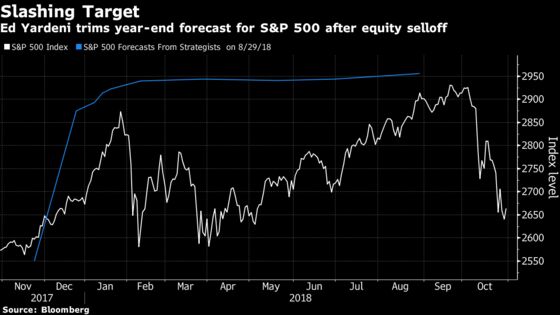 The reduced forecast from Yardeni represents a 10 percent increase in the S&P 500 from yesterday's close of 2,641.25. On average, Wall Street strategists predicted the benchmark gauge will end the year at 2,956, according to a Bloomberg survey in late August. The index added 0.5 percent as of 11:05 a.m. in New York.
"We believe that despite October's awful performance, the bull is still alive," Yardeni wrote in a note to clients. "But getting all the way to 3,100 by the end of the year from recent levels around 2,600 may be a stretch."
The S&P 500 has slumped almost 9 percent in October, poised for its worst month since February 2009. Stocks on Monday suffered their biggest reversal in more than three years as the index wiped off an 1.8 percent gain to end the day down 0.7 percent. The Dow Jones Industrial Average also reversed, going from a gain of 352 points to a loss of 566 points.
Such violent swings are caused by computer-driven models, said Yardeni.
"One of our accounts emailed me near the end of trading yesterday, 'Who are the traders who can turn a market from up 300 to down 560 so quickly?"' He wrote. "My response: 'Algos, not humans."'