Property Stocks Surge; NEV Expects Proceeds: Evergrande Update
(Bloomberg) -- Chinese property stocks posted sudden gains on Friday in Hong Kong, sending an industry gauge up by the most in a week amid investor hopes for more policy easing. 
A Bloomberg index of real estate firms listed in Hong Kong and mainland China climbed as much as 4.7%, partly fueled by an 8.3% surge in China Evergrande Group. The company will be removed from the Hang Seng China Enterprises Index next month.
Country Garden Services Holdings Co., which tumbled as much as 17% earlier Friday following its announcement of a $1 billion share placement, narrowed its losses to 8.9%. 
Earlier, several Chinese cities reportedly eased rules for land sales amid waning interest among cash-strapped developers. It was the latest sign of growing pressures on local governments as a housing market slowdown intensifies.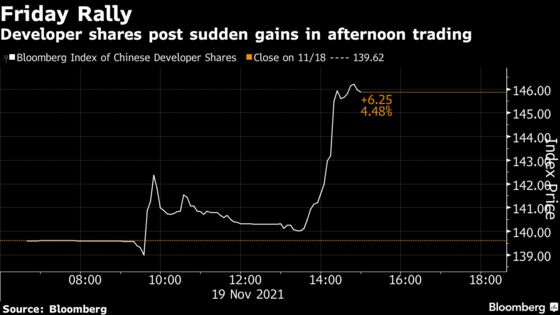 Evergrande to Be Axed From Hang Seng China Enterprises Index
China Developer Stocks Surge; Evergrande Rises 8.3%
China Property Developers Liquidity Stress to Continue: Moody's
Evergrande Unit Resumes Work at 63 Home Projects in Guangdong
Yango Group Gets Bondholder Approval For Exchange Offer
Evergrande Asks HK Agents to Sell More Flats for Fees Due: SCMP
Evergrande NEV Expects HK$2.7 Billion in Proceeds (10:20 a.m. NY)
China Evergrande New Energy Vehicle Group Ltd. is expecting HK$2.7 billion in gross proceeds from a share-placement agreement, the company's second this month. 
The company said in an exchange filing that it has entered into a placing and subscription agreement with an agent for 900 million shares at HK$3 each through top-up placing.
Evergrande Cut From Hang Seng China Enterprises Index (6:45 p.m. HK)
China Evergrande Group will be removed from the Hang Seng China Enterprises Index from Dec. 6, according to a statement from Hang Seng Indexes Company. 
Despite Friday's gains, the stock is down 81% this year, helping make the Enterprises Index the world's worst-performing major equity benchmark. The property firm will be replaced in the index by Innovent Biologics.
Loans to Property Sector Rise (5:18 p.m. HK)
Chinese bank loans to the property sector rose 8.2% through October compared to last year, according to the China Banking and Insurance Regulatory Commission. Reasonable demand from the property sector was met and loans maintained stable growth during the period, it said.
Ronshine China Outlook Cut by S&P (4:18 p.m. HK)
Ronshine China Holdings Ltd.'s rating outlook was lowered to negative from stable by S&P Global Ratings. The ratings firm said the move reflects its view that the property developer's debt repayment ability could weaken if it fails to execute its sales and cash collection plan.
China Developer Stocks Surge (2:51 p.m. HK)
A Bloomberg Intelligence gauge of Chinese property developers soared as much as 4.7%, the most in a week, with China Evergrande Group advancing as much as 8.3%. The index, which measures stocks listed on both the mainland and in Hong Kong, was headed for its first gain in three days. 
Agile Remits Funds to Repay HKD, USD Loans (1:21 p.m. HK)
Agile Group Holdings Ltd. has remitted funds for the repayment of a HK$3.34 billion ($429 million) loan and a $60 million loan that are both due on Nov. 22, according to a Hong Kong stock exchange filing.
China Developers Liquidity Stress to Continue: Moody's (1:10 p.m.)
Chinese real estate firms' limited funding access, slowing contracted sales and weakened controls over project-level cash are dampening cash flow and liquidity, Moody's Investors Service said in a report.
Everrgrande Resumes Work at Guangdong Projects (1:00 p.m. HK)
Evergrande's main onshore property development subsidiary said it has resumed construction at 63 home projects in Guangzhou, Foshan, and some other cities in the southern Guangdong province, according to a company statement. The unit reiterated a pledge to deliver quality apartments. 
China Cities Ease Land Bidding Rules (12:50 p.m. HK)
Some Chinese cities have relaxed rules for land sales after cash-strapped developers became reluctant to bid, threatening the biggest revenue earner for local governments. 
Several large cities including Shanghai and Nanjing have announced details of land sales plans in December, offering more plots than those in the last round, the official Securities Times reported. Some eased transaction requirements for developers, such as by reducing deposits ahead of bidding or refraining from asking for full payment within a month, the newspaper reported. 
Country Garden Services Tumbles After $1b Placement (11:18 a.m. HK)
Country Garden Services slumped as much as 17% in Hong Kong trade, a day after it said it is looking to raise HK$8 billion ($1.03 billion) through a share sale, the latest Chinese real estate firm to tap equity markets amid a liquidity crunch engulfing the sector. Its shares were trading around the HK$51 level late morning, after the company confirmed placement pricing at HK$53.35 per share Thursday.
Zhongliang Delivers Bond Payment (8:15 a.m. HK)
Zhongliang Holdings Group Co. said it has remitted funds to the trustee for repayment of the outstanding principal amount and accrued interest of a dollar bond due this month, according to a Hong Kong stock exchange filing. 
Evergrande Asks HK Agents to Sell More Flats (7:56 a.m. HK)
China Evergrande Group is offering to pay outstanding commission fees owed on two flats for every additional one of similar value that agents sell at one of its Hong Kong projects, the South China Morning Post reported, citing notes from one of a series of meetings between the developer and property agencies.
Evergrande attributed the payment delay to its cash flow problems, saying that the project's financing structure also "made it impossible to take a large amount of funds to pay commissions."
Yango Gets Nod on Debt Exchange (7:36 a.m. HK)
A unit of Yango Group Co. announced that bondholders approved its offer to exchange three of its dollar bonds, according to a Thursday filing to the Hong Kong stock exchange. 
The developer will issue $669.9 million of new notes due in September to replace the existing three bonds. Yango Justice International Ltd. proposed the debt swap on Nov. 1 after seeing "enormous pressure" on short-term liquidity, saying then that if support fell short the company "may not be able to repay" existing notes.   
A look at Evergrande's maturity schedule:
Dollar bonds
Coupon due date
Grace period ends

Amount 

(million dollars)

TIANHL 13% due 2022
Nov. 6
Dec. 6
41.93
TIANHL 13.75% due 2023
Nov. 6
Dec. 6
40.56
EVERRE 7.5% due 2023
Dec. 28
Jan. 27 
50.43
EVERRE 8.75% due 2025
Dec. 28
Jan. 27 
204.77