Worst Start Since 2011 Lures Fund to Add Indonesian Stocks
(Bloomberg) -- The worst start for Indonesian stocks in nine years has prompted a $3.7 billion fund manager to increase its allocation to Southeast Asia's largest equity market.
The benchmark Jakarta Composite Index has dropped more than 3.5% in January, on track for its biggest decline for the first month of the year since 2011. Concerns over the global impact of the novel coronavirus have hit share prices in the $500 billion market, which had swelled recently amid hopes for government spending and reforms.
Betting that the virus scare will be short-lived and the growth story will remain intact, Lilis Setiadi, CEO of PT Batavia Prosperindo Aset Manajemen, has expanded the stock holdings of her firm's funds to an average of around 92% from 89% at the end of 2019.
"We think that this is going to be rather short-term volatility and the impact is going to be somewhat contained within the first quarter," Setiadi said in an interview. "With the story of continued recovery, especially in the second half, it should provide opportunities for some clients to invest more when the market has some healthy correction."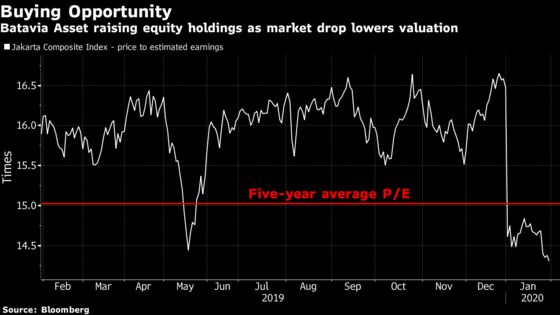 BPAM's top sectoral picks for this year are financial, agriculture, infrastructure and selected consumer goods companies, Setiadi said. She declined to give the names of individual stocks on her preference list.
The firm's 6 trillion rupiah Batavia Dana Saham equity fund has seen bigger returns than 86% of its peers over the past three years. Its top five holdings are PT Bank Central Asia, PT Bank Mandiri, PT Bank Rakyat Indonesia, PT Astra International and PT Telekomunikasi Indonesia.
With the recent market decline, the country's benchmark stock gauge is trading at 13.9 times projected earnings, below the five-year average of 15 times, according to data compiled by Bloomberg. The benchmark gauge fell 1.5% on Friday, dropping below 6,000 level for the first time since November.
Foreign investors have pumped over $2.6 billion into Indonesian stocks over the past 12 months, despite withdrawals in the past two weeks. Once the dust from the illness outbreak settles, attention can return to the reforms that President Joko Widodo has been trying to push in the world's fourth most populous nation, Setiadi said.
Jokowi, as Widodo is commonly known, has put job creation and taxation at the top of his second-term agenda as he tries to stoke economic growth. An omnibus bill on job creation aims to overhaul Indonesia's labor legislation, make it easier for companies to secure permits and relax foreign ownership rules.
That should help Indonesian companies record earnings growth of 7%-9% in 2020, or at least twice the pace expected for last year, and push the Jakarta Composite Index to an all-time high of 7,100, Setiadi said.
"We will see more catalysts taking place in the second half," she said. "I think it's only logical for us to start accumulating and increasing our equity allocation, not at the time when we think that the market is really going to show improvement but of course a few months proceeding that."