Worst-Performing German Stock Wields an Unusual Tool for Reboot
(Bloomberg) -- Leoni AG, a 450-year-old company that traces its roots to precious-metal threads for embroidery, is seeking salvation through an unusual modern financing tool.
The worst performing stock among major companies in Germany in the last year, Leoni is considering an audacious refinancing package, in part by preparing to sell about 200 million euros ($220 million) worth of receivables. It's a transaction known as factoring that would let it pay back a 170-million-euro Schuldschein, or promissory note, due in March. Leoni is also renegotiating parts of its gigantic order book to try and pass on rising labor costs to customers.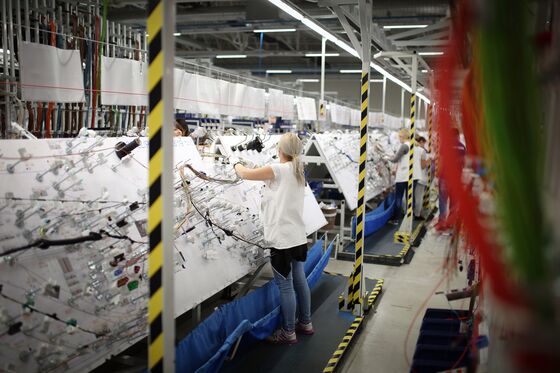 To help it see through the financial overhaul, Leoni recruited law firm Latham & Watkins for talks with banks participating in its 750 million euro revolving credit facility, people familiar with the matter told Bloomberg last month, with the revolver seen as an option to repay March debt.
A group of Schuldschein creditors are working with law firm Dentons, other people said. Some of them are considering cutting the company some slack by agreeing on a delay in the next debt payment or to provide new funds, they said.
"Leoni is up to its neck in trouble," said Bankhaus Lampe analyst Christian Ludwig.
From its beginnings in the 16th century, Leoni has become one of the largest makers of cables and wires used in the automotive industry, with a global workforce of 93,000 -- more than Deutsche Bank AG.
But like the storied bank, Leoni has hit hard times. Cost overruns at a factory in Romania hurt operations, and similar problems in Mexico led to three profit warnings in quick succession. The company was forced to cut jobs as well as its dividend, and executives have come and gone. Net debt rose to 56 times Ebitda after the second quarter, among the worst ratios of major German companies. Free cash flow has been negative for half a decade.
As a result, the stock has lost about 70% in the past 12 months.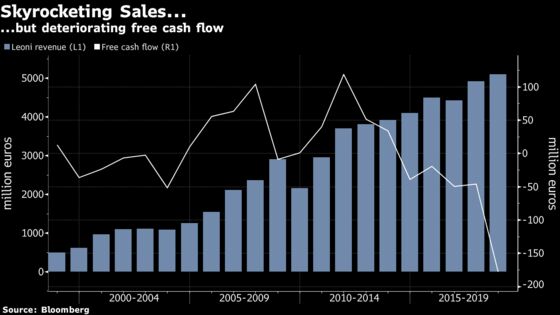 In order to determine the financial situation of the company, Leoni asked consulting firm Roland Berger to prepare an independent review of its business by the end of February, the people said. A positive verdict could be key to make lenders comfortable with continuing to finance Leoni.
Daniel Kukalj, an analyst at Quirin Privatbank, says Leoni's options to fight labor cost inflation are limited, and that even an insolvency cannot be ruled out completely as a scenario. This year will be another one of no growth in the automotive industry, adding to pressure on Leoni, said Kukalj, who sees "no signs that the company is getting a grip on its unfavorable cost situation."
Expanding factoring is among options being considered, while sale and leaseback transactions are another tool, according to a spokesman for Leoni. The company aims to sell about one-third of slightly more than 600 million euros in receivables, he said. Leoni in December said it seeks to increase liquidity by 200 million euros and that it was in "very constructive discussions" with creditors.
The company declined to make an executive available for comment. Representatives at Dentons and Roland Berger declined to comment.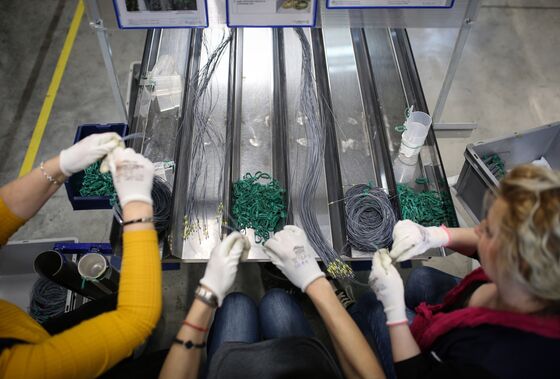 Leoni's downfall is study in a business model that long relied on labor-intensive manual production located predominately in low-wage regions like Eastern Europe or North Africa. Leoni first set up shop abroad in 1977 with a facility in Tunisia, and it branched out rapidly in former communist territories after the fall of the Soviet Union. Today, more than 40% of its staff is in Eastern Europe and one third in North Africa.
A typical Leoni site employs as many as 5,000 workers who get trained for several months on how to manually weave together cables in a harness. It's a system that worked so long as wages were low and robots couldn't perform the work to the same standards.
But as more eastern European economies joined the single European currency and salaries in North Africa crept up, that mechanism increasingly became a stretch, meaning personnel expenses grew about tenfold in the past two decades.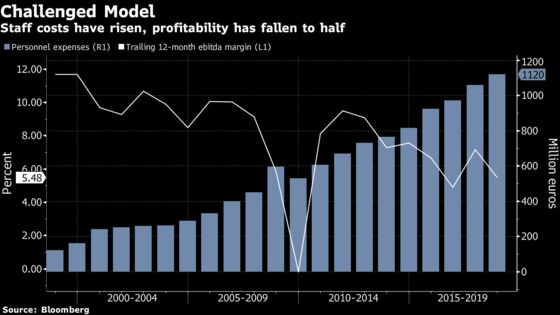 Leoni's restructuring plans are coming together at a time when the global car market is in turmoil. Demand in China is waning, and European manufacturers like Volkswagen AG and Daimler AG are facing a costly transition from combustion engines to battery-powered vehicles, a giant shift that will also ripple through the supply chain.
While Leoni boasts a huge order backlog, standing at more than 24 billion euros in its last reported year, the company is under pressure to insert wage-escalator clauses into existing contracts to improve margins, a task that it has successfully accomplished with at least one customer, according to the company.
Securing more such deals, branching out into more lucrative niches and possibly automating and standardizing its wiring products will be longer-term issues Leoni must solve in order to become more profitable again, said Juergen Pieper, an analyst at Bankhaus Metzler in Frankfurt.
"The company must also solve its control problem and stop running local operations on too long a leash," he said.
Another vein to tap for Leoni is the planned sale of its Wire & Cable Solutions business that could fetch about 300 million euros, Pieper estimates, about the market value of the entire company today. While WCS is smaller than the remaining wiring systems business, accounting for 38% of sales in 2018, it's the more profitable one.
Still, it would take a "courageous" private equity investor, or a competitor not afraid of the necessary cost-cutting to buy the unit, said Harald Eggeling, an analyst at Oddo BHF. In a worst case, carmakers would likely take over Leoni's wiring systems plants to safeguard production, he said.
"Leoni is systemically relevant for the European automotive industry," Eggeling said.