Worst May Be Over for Active Funds Selling Stock, UBS Data Shows
(Bloomberg) -- Two months into the worst run for equities in two years, and investors want to know one thing: when will it stop? A gauge of selling among money managers suggests it's closer to the end than the beginning.
It's something called the composite positioning indicator kept by UBS Group AG, which tracks $5.4 trillion on active managers' aggregate exposure to U.S. stocks and compares the level with historical data. Right now, it's about 0.9 standard deviation below its long-term average, strategists Keith Parker and Neal Burk said in a note to clients.
Historically, when the positioning measure has fallen that much below the mean, the S&P gained 3 to 4 percent in the next 30 days, their data show.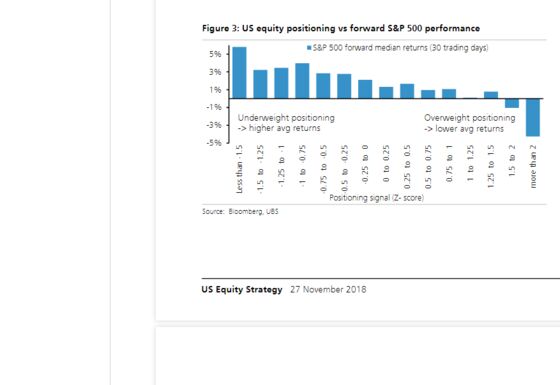 Active managers have been cutting stock exposure since early October amid a 10 percent correction in the S&P 500. Certain components of the UBS gauge, such as balanced fund and commodity trading advisers' hedge fund exposure, plunged at least 1.5 standard deviation below the average.
Risks are rising into next year, but the strategists' outlook remains positive: valuations already reflect the high level of uncertainty, while any potential positives aren't priced in.
One event with the risk-reward calculus may be skewed too pessimistically is the Group of 20 summit in Buenos Aires, where Donald Trump and Chinese President Xi Jinping plan to meet after a year of trade conflict. Trump said in an interview with the Wall Street Journal that he's ready to impose tariffs on a final batch of $267 billion of Chinese shipments if he and Xi can't make a deal.
"The S&P at 2,673 is pricing some risk of further escalation in our view, and thus the absence of a negative G20 outcome (i.e. agreement to just keep talking) could see the S&P 500 trade toward 2,800 or plus 4 percent," Parker and Burk said in the note.