Australian Stocks Need Trump and Xi to Play Nice
(Bloomberg) -- Australia's stock market, the worst performer in the Asia-Pacific region in the past three months, needs signs of a thaw in the U.S.-China trade spat to spur a year-end rally.
That's the view of Steven Daghlian, a market analyst at Commonwealth Bank of Australia's securities unit, who says a positive outcome of the meeting between U.S. President Donald Trump and his Chinese counterpart Xi Jinping at the Group of 20 summit starting later this month could be the catalyst needed for December gains. The country's benchmark stock gauge hasn't fallen in the final month of the calendar year since 2011.
If Trump and Xi are "friends again, that could see the market erasing at least a portion of the losses," Sydney-based Daghlian said by phone. "It might not be as bad of a year as what it's pointing to at the moment."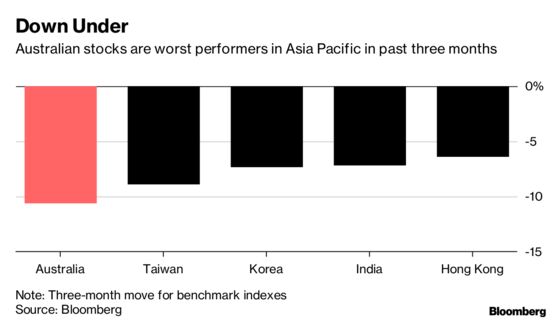 The benchmark index has tumbled 11 percent in the past three months as investors face rising global interest rates, falling oil prices, a slowing Chinese economy and increased U.S.-China trade frictions. Those showed no signs of abating during a week of summits that ended Sunday, with U.S. Vice President Mike Pence sharpening criticism of China.
Given the Asia-Pacific Economic Cooperation summit ended in disarray amid tensions between Washington and Beijing, investors aren't expecting anything from the Trump-Xi meeting at the G-20, said Tim Rocks, chief investment officer at Evans and Partners Pty. "The risk is perhaps to the upside if they make some very general statement of intent to work together in the future," he said.
The situation for Australian stocks isn't being helped by a weaker property market, which is crimping bank earnings and weighing on business and consumer sentiment.
HSBC Holdings Plc's chief economist for Australia Paul Bloxham joined the ranks of local bears, projecting that house prices in the country's two hottest property markets in the recent boom will drop 12 percent to 16 percent from their peaks. Fletcher Building Ltd. fell the most in seven years on Tuesday after it forecast declining earnings amid market weakness.
Australian stocks still aren't overly cheap, Rocks said, even with the 6.5 percent slump this year that's pushed the S&P/ASX 200 Index's valuation to 14 times estimated earnings for the next 12 months, near the lowest level since 2014. "It's just very hard to know how bad that housing market will be," he said.