World Volatility Gauges Drop as Bulls Attempt Fight Back
(Bloomberg) -- After the storm comes the calm: Volatility gauges across currencies, stocks and bonds around the world are signalling a return to tranquility as option traders seek to shrug off recent market turmoil.
Expansive corporate earnings have given money managers a counterpoint to the lingering trade and late-cycle risks that helped fuel the rout. Even as U.S. stocks swung from a loss to a gain on Wednesday, volatility measures were well on the way to recovering from last week's blowout, signalling a potential return to range-band trading in the months ahead.
"The bulls have wrestled back control," Chris Weston, head of research at Pepperstone Group Ltd. in Melbourne, wrote in a note.
It's a tentative reprieve for investors whipsawed by the recent tumult. Any enduring calm in the currency and interest-rate landscape would help risk-adjusted returns across carry trades and boost battered emerging markets.
U.S. Treasury implied volatility is sliding closer to historic lows, underscoring expectations that another spike in bond yields isn't in the cards.
Meanwhile, a JPMorgan Chase & Co. index of expected swings in global foreign exchange is back within a whisker of its one-year average, anchoring premiums for currency hedges and a sign investors are braving tensions in global commerce.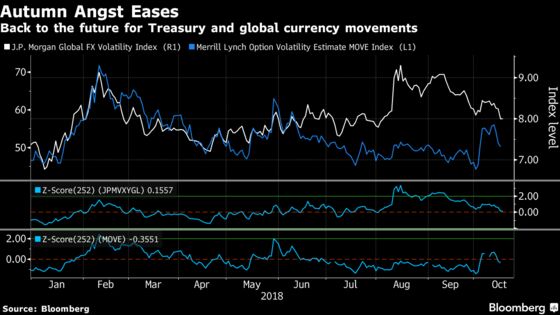 In the grips of the global tumult, equity volatility was outpacing its rates counterpart -- a dynamic seen as a good buy signal for stocks, according to UBS Group AG.
That call is in the early stages of being vindicated as markets regain some ground this week. After the Cboe Volatility Index's most violent swing last week since February -- with the price of near-term futures surging above those further out on the curve -- it could be business as usual, soon enough.
The gauge closed at 17.6 on Tuesday, having hit 29 last week. Technology companies -- the anchor of the stock bull run -- joined the down-draft of implied price swings.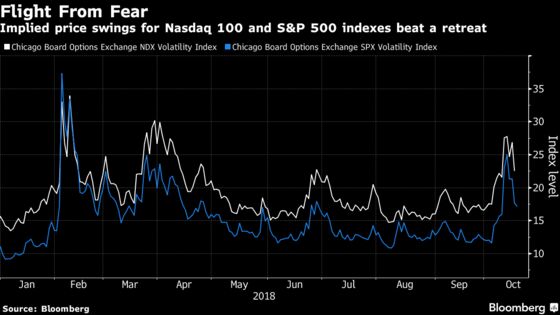 More notably, the VIX futures curve is attempting to normalize after moving last week to a downward-sloping state, known as backwardation, as investors fretted the near-term equity outlook amid trade and earnings angst.
A return to an upward-sloping curve may be in the offing, greasing the short-volatility complex for hedge funds and retail investors while clearing the path for equity bulls.
The November contract is set to become the front-month future on Wednesday, while December's VIX future is depressed by a seasonal quirk of the holiday season -- the relative lack of trading days. In other words, the roll-over of VIX contracts suggests the backwardation in the curve is exaggerating implied market concern right now.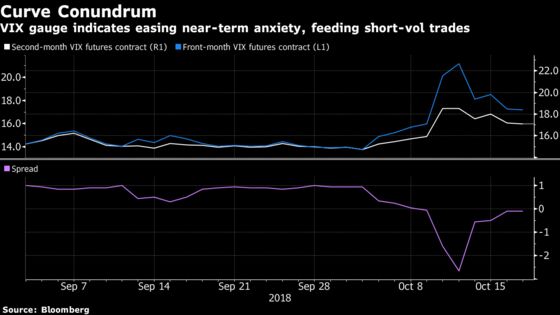 That's not to say calm has been restored, as investors don protection against equity pain. Despite this week's U.S. stock gains, trading in options tied to the "fear gauge" remains elevated. Volumes have cracked the million mark for five consecutive sessions for the first time since February.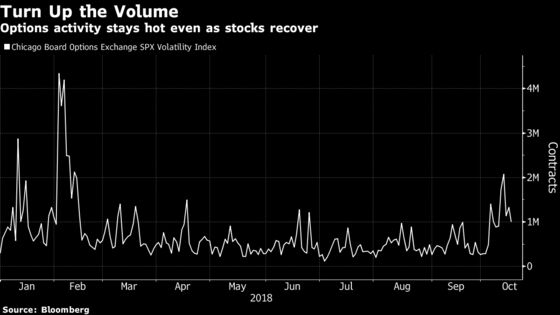 Europe is a different story. Fed by stable monetary expectations, cross-asset gauges remain relatively listless despite angst over Rome's fiscal posture.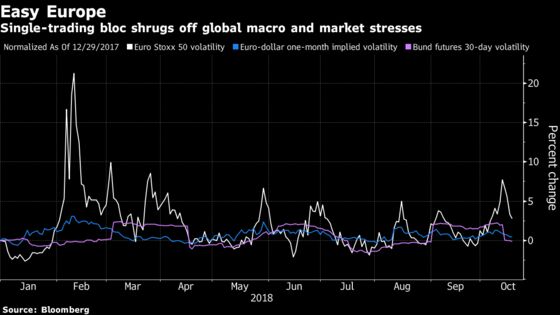 It's all helping investors punting on a return of the global convergence trade. The extreme gap between implied currency volatility in the emerging world and that of the Group-of-Seven nations -- rarely seen over the past 18 years -- is roaring back to normal.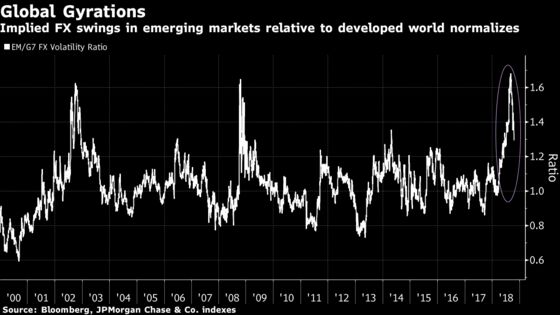 Expected price swings for the largest exchange-traded funds tracking stocks and bonds issued by developing economies are also falling.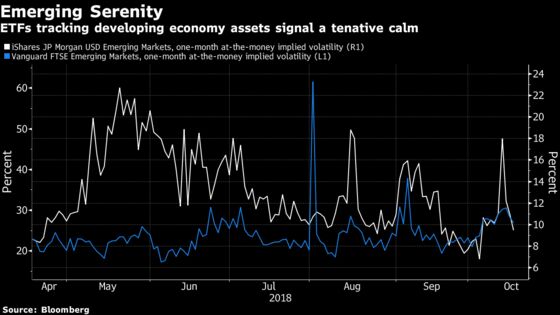 Even Chinese markets have seen implied volatility abate and risk appetite improve -- a fillip for emerging-market assets overall. Citigroup Inc. upgraded the asset class to neutral from underperform on Tuesday, citing stimulative policies from Beijing.
"In the past, China monetary reflations have lowered EM risk aversion, reduced credit spreads, and boosted the relative performance of EM stocks," wrote Jeremy Hale at the U.S. bank.
One word of warning: The yuan's tighter trading range could soon be hit by the expected release this week of the U.S. Treasury's report on currency manipulation.
And the British pound, which remains hostage to the ebbs and flows of Brexit negotiations, remains another source of stress.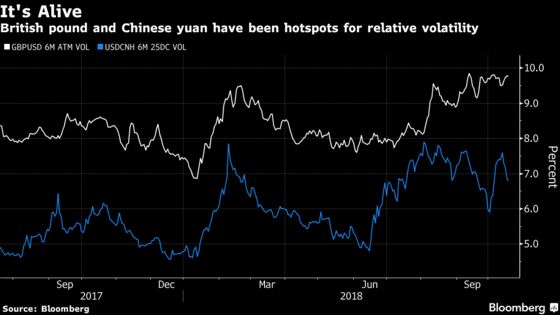 Bears are growling ever-louder given the breakout in Treasury yields and the ageing U.S. business cycle. "We argue investors should be preparing for a higher volatility regime and trade accordingly," Morgan Stanley strategists led by Hans Redeker wrote in a note on Tuesday.