World's Longest Flight Is a Triumph Over Oil Prices
(Bloomberg Opinion) -- The world's longest commercial airplane flight took off this week, connecting Newark and Singapore via 19 no-cattle-class hours in Singapore Airlines' brand-new Airbus A350-900 Ultra Long Range plane. At 10,400 miles, it's farther than Qantas Airways' Perth-to-London flight, or Qatar Airways' Doha-to-Auckland flight.
It's also a rebirth: In October 2013, Singapore Airlines made its last Newark-to-Singapore flight with its four-engine Airbus A340-500, which was "no match for the economic cruelties of volatile fuel prices." Five years on, with a new two-engine plane, it's back. Oil (and jet fuel) prices are cyclical, but technological improvement is structural, and the numbers suggest that's what brought the flight back.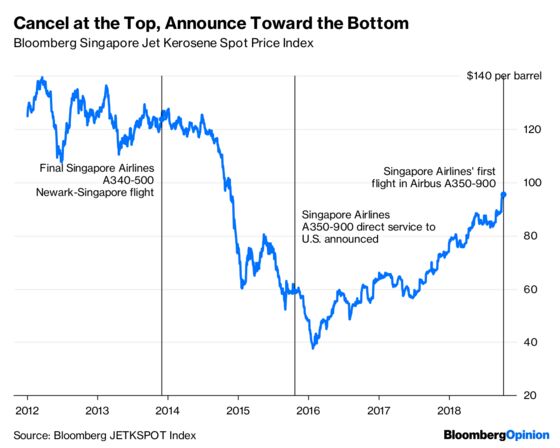 But the new A350-900 is lighter, more comfortable and far more efficient than the A340. As my Bloomberg News colleagues Angus Whitley and Kyunghee Park note:
Lightweight composites including carbon fiber make up the bulk of the A350-900ULR, while new wing tips help reduce drag, Airbus says. The revamped model consumes 25 percent less fuel than aircraft of a similar size and performance, according to Maria Luisa Lucas Ugena, Airbus's head of A350 product marketing.

The plane has a higher ceiling, bigger windows and a wider body, with less noise in the cabin and LED lighting that is designed to reduce jet lag. Composite-based planes can also tolerate higher cabin pressure, which means more oxygen and moisture in the air, making for a more comfortable flight.
Oh, and the A350-900 holds 60 percent more passengers (admittedly, a configuration choice on the airline's part) at less than half the per-passenger fuel load of the A340-500:
Weight savings alone won't get the plane to Newark in one hop. Airbus rejigged the fuel system on a standard A350-900 and pumped 17 percent more jet kerosene into the tanks in the wings. The plane can now hold about 43,590 gallons of fuel, or more than 270 gallons per passenger on a full flight. The A340-500s that plied the route until 2013 had 58,870 gallons for only 100 customers.
The A350's improvement over its predecessors will resonate in aviation for years or even decades, given how long an airframe can last. It's a new floor on fuel consumption and a new ceiling on comfort; eventually, it will also be a ceiling on fuel consumption. That's technology at work: Today's best in class is tomorrow's minimum standard.
Get Sparklines delivered to your inbox. Sign up here. And subscribe to Bloomberg All Access and get much, much more. You'll receive our unmatched global news coverage and two in-depth daily newsletters, the Bloomberg Open and the Bloomberg Close.
This column does not necessarily reflect the opinion of the editorial board or Bloomberg LP and its owners.
Nathaniel Bullard is an energy analyst, covering technology and business model innovation and system-wide resource transitions.