World's Largest Gold ETF Is Getting a Cheaper Little Brother
(Bloomberg) -- The price of gold is falling, at least for investors in exchange-traded funds.
The World Gold Council is readying a new fund that will charge less than any other gold ETF, regulatory filings show. It will vie for assets with 35 other precious-metals exchange-traded products in the U.S., including SPDR Gold Shares -- known by its ticker GLD -- the $35 billion market leader, which the council also started.
Despite gold's recent slump amid higher interest rates, enthusiasm for the commodity as both a trading instrument and a store of value has been strong this year. Trading in GLD soared during February's volatility as investors sought to bet on, or hedge against, markets heading south. A rival fund from BlackRock Inc., meanwhile, took in more than $700 million in both January and April, the most for any month in two years, Bloomberg data show.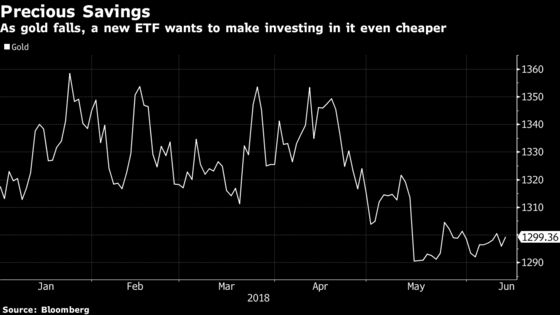 The gold spot price has risen less than 0.1 percent this year. The metal was trading at $1,304.47 an ounce as of 9:25 a.m. in New York.
Investors will soon be able to get a piece of that action for a lower price. The SPDR Gold MiniShares Trust, which will trade as GLDM, will cost just 18 basis points in management fees, or $1.80 for every $1,000 invested, the filings show. By comparison, GLD charges $4 for every $1,000 invested.
The fund will also start trading with a significantly lower share price than GLD, allowing investors to buy in smaller increments, the documents show.
GLDM's shares will start trading at around $12.98, the filings suggest, versus about $123 for the older fund. That would put GLDM on a par with BlackRock's iShares Gold Trust, which trades at $12.47 per share. However, it charges $2.50 for every $1,000 invested.