World's Biggest Rout Can't Make China Titans a Buy: Tech Watch
(Bloomberg) -- It's going to take more than the world's biggest stock rout of 2021 to convince many investors that shares of Chinese technology giants have hit bottom. 
The three companies that have lost the most market value globally this year have been Chinese technology titans: e-commerce firm Alibaba Group Holding Ltd., game developer Tencent Holdings Ltd. and video-streaming platform Kuaishou Technology, according to data compiled by Bloomberg. In total, the three have seen $545.7 billion wiped out and they've accounted for almost half the decline in the MSCI China Index. 
They have become a lot cheaper. After dropping at least 17% in 2021, they're trading at historical discounts to the U.S. peers. But for many investors that's still not cheap enough, since estimating their future earnings growth has become more difficult given Beijing's regulatory crackdown.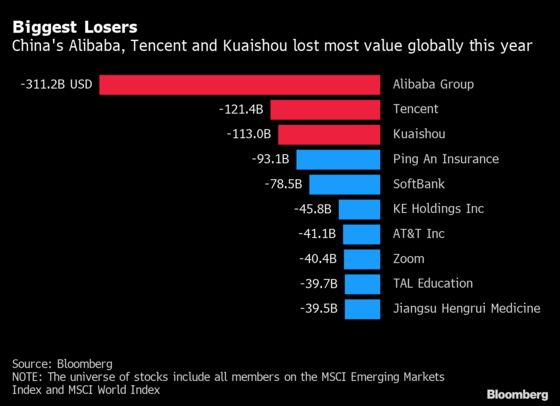 "We remain underweight the largest technology companies by market cap in China," said Vikas Pershad, equity fund manager at M&G, citing concern that they may continue to see increased regulatory scrutiny. "Despite of the erosion of market caps, we have not seen value emerge."
Beijing has been tightening its grip on the businesses that had powered technology companies' rapid profit growth over the past decade. The measures include anti-monopoly fines, suspending new game approvals, and stricter control over digital finance. Adding to the jitters were the tightened scrutiny by the U.S. and the delisting of Didi Global Inc., which fueled worries on their accessibility by American investors.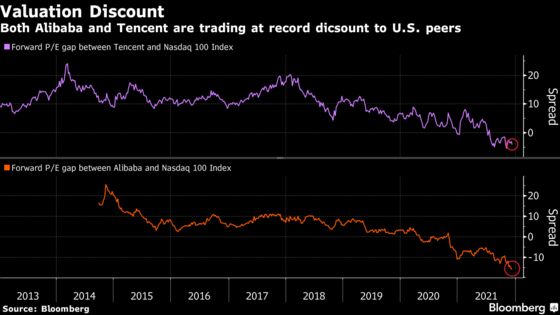 "The companies kind of live in the darkness," said Rocky Wang, a portfolio manager at Thornburg Investment Management. Without regulatory clarity, "it's just so hard to predict the earnings growth profile," he said. 
Alibaba's valuation is almost 50% lower than its historical average, while Tencent is 17% lower, Bloomberg data shows. Trading at just 13 times forward earnings, Alibaba is priced at less than one third of its U.S. peer Amazon.com Inc. 
To be sure, some market watchers, including Goldman Sachs Inc. and Credit Suisse AG, have turned more optimistic after more than a year of clampdown. Both say that better visibility on the regulatory front should lead to a recovery in the internet sector, while Credit Suisse favored Tencent and Alibaba in particular on their strengths in overseas expansion. 
Kuaishou, which went debut in February with a 161% surge in Hong Kong, is among the top 10 companies globally that have seen the sharpest reductions in profit consensus this year, data compiled by Bloomberg datashows. Analysts see the video-streaming provider posting a loss for the coming 12 months, while Alibaba's average earnings estimate has been slashed by more than 30% this year. 
"You can argue the optical valuation is very cheap,"  said Thornburg's Wang "Alibaba is halved. But you have to have a forward-looking growth profile. That's still undecided." 
The stock market has rebounded this month on growing optimism that the omicron variant of the coronavirus won't be as deadly as initially feared. The tech-heavy Nasdaq 100 Index, though, is lagging behind the U.S. benchmark S&P 500 Index as investors have been selling expensive growth stocks ahead of the Federal Reserve's expected tapering of bond purchases.