Biggest Inflation-Hedged ETF Suffers Record $944 Million Outflow
(Bloomberg) -- The world's biggest inflation-protected bond ETF has been hit by its largest outflow on record, the latest sign that the cross-asset reflation frenzy is cooling.
Investors just pulled $944 million from BlackRock Inc.'s $26.3 billion iShares TIPS exchange-traded fund (ticker TIP), according to data compiled by Bloomberg. That's by far the largest withdrawal in the more than 17-year history of the product, which buffers investors in government debt against growth in consumer prices.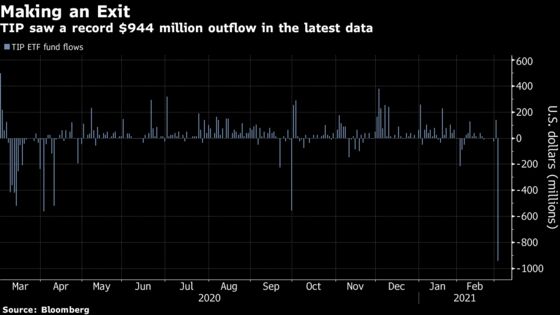 The TIPS ETF was trading at the highest levels on record before its mid-February retreat, with assets having peaked at more than $27 billion.
Reflation trades have been on a tear across global markets this year, with everything booming from small-cap companies and energy stocks to price-protected debt strategies. But historic valuations and the long journey to a post-pandemic world are giving some investors pause for thought.
Meanwhile, the selloff in long-dated nominal bonds -- among the biggest losers when inflation breaks out -- is easing. Some $755 million was added to the iShares 20+ Year Treasury Bond ETF (TLT) in the past three sessions, according to data compiled by Bloomberg.