World's Best Stock Market Needs a Fresh Catalyst Out of Beijing
(Bloomberg) -- China's world-beating equity rally is counting on policy makers to deliver again next week.
While Monday's surge was the market's biggest in years, momentum faltered in the following days even as turnover remained high. The Shanghai Composite Index has struggled to rise above the 3,000 level that's either been a ceiling or provided a floor since the gauge's post-crash low in 2016. Perhaps the reality of China's weakening economic data -- which doesn't bode well for corporate profits -- is starting to sink in.
A set of supportive measures out of an annual meeting of top officials may be one of the few catalysts that traders can count on to break out of the grind. Government efforts to bolster sentiment have worked this year, helped by the new securities regulator's more lenient take on financial risk. The Shanghai gauge is up every week in 2019, its best streak since the height of the bubble in 2015.
The city's sleepy currency is back in the spotlight, with sliding borrowing costs making it lucrative for traders to sell the Hong Kong dollar against the higher-yielding greenback. It was briefly quoted at HK$7.85 per U.S. dollar, though it was unclear if any trades were executed at that level.
The depreciation may trigger intervention by the city's de facto central bank, which is obliged to defend the local exchange rate if there are any such orders that aren't filled by other buyers. That would mop up liquidity, increasing the likelihood of higher borrowing costs in Hong Kong. Short-term interbank rates rose the most since December on Friday.
This week's chart shows how broad the gains have been in Shanghai, where almost all of its 1,500-odd members are trading above their 50-day moving averages.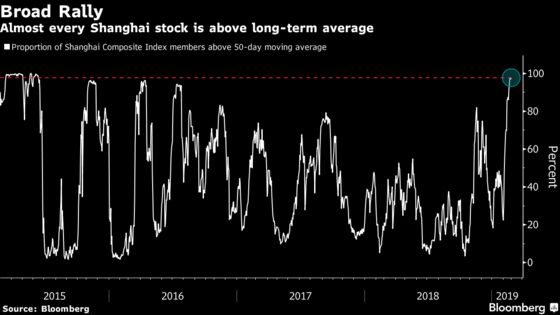 Here's what else caught our eye this week: