Korea Leads Slide as Emerging Asia Caught in Trade, FX Crossfire
(Bloomberg) -- South Korea's won and stocks led losses in Asian emerging-market assets as trade tensions escalated and signs emerged that China was allowing currency depreciation to ward off the latest U.S. tariff threat.
The won slipped as much as 1.7% to 1,218.35 per dollar, its weakest since March 2016. Bulk of the losses came after China set its yuan fixing at a level weaker than 6.9 per dollar for the first time in 2019. The Kospi Index of shares sank 2.5%. South Korean bonds rallied, with the 3-year yield falling to a record low on bets a worsening economic outlook will prompt the central bank to ease policy again.
Pressure on South Korean assets has risen after Tokyo on Friday removed Seoul from a list of trusted export destinations, prompting the latter to say it would do the same. That's when the export-dependent economy is already caught in the trade-war crossfire between the U.S. and China, its two major trading partners, and is also grappling with a slump in demand for memory chips. Volatility in local financial and foreign-exchange markets may rise, the Bank of Korea warned on Friday.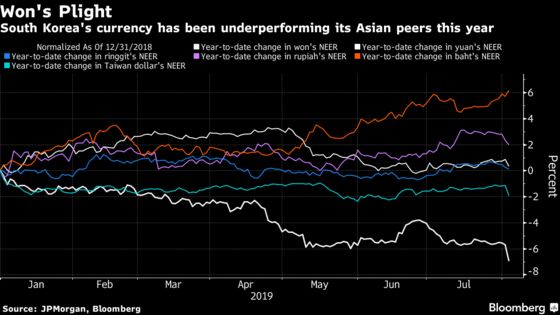 "Considering the weight of trade woes on the won, further escalation in disputes may weaken the currency to as low as 1,220 per dollar," said Chang Jaechul, chief economist at KB Securities Co. The won's drop since July reflects "the risk of growing uncertainties in the market, combined with the broad dollar rally and yuan's weakness," he said.
READ: South Korea Exports Fall Again in July as Trade Woes Drag On
The move in the dollar-won pair is "excessive" and "abnormal," South Korea's FX authority said on Monday as the won fell past the key 1,200-per dollar mark for the first time since 2017.
That said, analysts say the yuan's sudden slump is a sign the People's Bank of China will allow more depreciation after the U.S. vowed to hit the country's products with new tariffs, adding to the pressure on Asian currencies.
China's weaker fixing signals more downside for regional currencies, said Qi Gao, a currency strategist at Scotiabank in Singapore.
The tech-heavy Kosdaq Index slumped as much as 5.2%. Samsung Electronics Co., the nation's biggest stock, dropped for a fourth day.
Investors need to be defensive with their portfolios, considering MSCI Inc.'s plan for reducing Korean equities in a re-balancing scheduled for this month will also be weighing on the stock market, said Park So-yeon, a strategist at Korea Investment & Securities.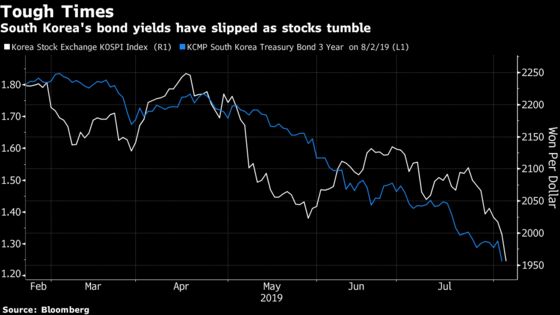 South Korea's benchmark three-year yield slid 7 basis points to 1.199%. It could drop to a fresh record low of 1.10% by year-end as traders add to bets for the BOK to lower the benchmark rate again, said Kang Seungwon, fixed income strategist at NH Investment & Securities Co.
Prime Minister Lee Nak-yon on Sunday urged Japan to correct its "reckless and risky" decision to curb exports to the country. Separately, China's state-run agricultural firms have now stopped buying American farm goods, and are waiting to see how trade talks progress, according to people familiar with the matter.