Won, Rupiah Stand to Gain Most When Foreign Flows Return to EM
(Bloomberg) -- The Korean won and Indonesia's rupiah would be the two biggest beneficiaries should foreign-investor flows return to Asia, once the risk event of the U.S. presidential election is out of the way.
That's according to a Bloomberg study of Z-scores that measure the 12-month rolling sum of portfolio inflows and compares this to the five-year average with currency valuation and economic fundamentals taken into account.
South Korean stock portfolio inflows have a Z-score of negative 2.3. In the case of Indonesia, bond flows have a Z-score of minus 2.9. A rebound back to the five-year average would be worth 1.5% of gross domestic product for South Korea, and 1.1% of GDP for Indonesia.
Emerging-market capital accounts have received virtually no net portfolio inflows since the Covid-induced trough as investors have chased returns in U.S. equities, global tech stocks, and Chinese markets. This compares with inflows of almost $100 billion for the corresponding period following the Global Financial Crisis in 2008.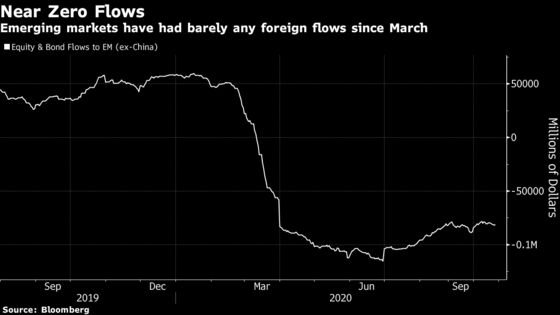 Signs that South Korea is rebounding from its pandemic-triggered recession as well as the biggest jump in exports since 1986 are among the tailwind for the country's assets.
"Given the strength in the Korean economy and the stock market and lack of inflows so far, the start of the long over due foreign inflows can give the Korean won another boost," said Nader Naeimi, the head of dynamic markets at AMP Capital Investors Ltd. in Sydney.
The won may benefit more than the Taiwan dollar -- another potentially large beneficiary based on the Z-scores -- from a recovery in flows because of the valuation gap that remains between the two currencies. The South Korean currency's real effective exchange rate (REER) is still 1% below its five-year average, and the Taiwan dollar's is more than 4% above. Though considered a low-yielder in Asia, the won also has the yield advantage over Taiwan's currency.
Indonesia's path to improvement in foreign flows looks more complicated. The country risks being caught in a vicious cycle whereby the central bank keeps local monetary conditions loose to encourage local institutions to buy bonds to offset the shortfall in overseas flows. That effort is reinforced by central bank purchases of bonds, creating currency depreciation risk, which, in turn, makes local debt less appealing to foreigners.
The southeast Asian country is trying to short-circuit this by defending the currency, and refraining from cutting the policy rate. The strategy finally seems to be paying off, though much of its recent success can probably be attributed to the persistent weakness in the U.S. dollar.
Indonesian rupiah is currently around 3% below its five-year REER average, against 3% above for the Thai baht -- another potential beneficiary of bond inflows in the study. Indonesia's bonds also offer a 3.5% real-yield advantage relative to Thailand, based on inflation forecasts of economists surveyed by Bloomberg.
More generally, though, the prospect of widespread distribution of a vaccine may be what is required to decisively change sentiment toward Indonesia. Confidence in the nation has hitherto been shaken by its difficulties in controlling the Covid-19 pandemic as the country has the largest outbreak in Southeast Asia, yet languishes at 158th in Worldometer's table of tests conducted per million.
| | Equity Inflows (Z-score) | Bond Inflows (Z-score) |
| --- | --- | --- |
| China | +1.6 | +0.6 |
| India | +1.6 | -1.7 |
| Indonesia | -0.7 | -2.9 |
| Malaysia | -1.7 | +0.7 |
| Philippines | -2.1 | +1.0 |
| South Korea | -2.3 | +1.9 |
| Taiwan | -2.0 | NA |
| Thailand | -1.9 | -1.4 |
Note: Simon Flint is an emerging-market strategist at Bloomberg News. The observations he makes are his own and not intended as investment advice.