Won, Stocks Drop After Korea Says Disease Alert Level Highest
(Bloomberg) -- The won dropped to a six-month low and stocks plunged after South Korea raised its infectious-disease alert to the highest level as the coronavirus outbreak worsened.
The currency declined as much as 0.8% to 1,218.35 against the dollar, the weakest since August. The benchmark Kospi Index sank 3%.
"The virus appears to have a bigger-than-expected negative impact on the financial markets," said Park Sang-hyun, an economist at HI Investment & Securities Co. "The point is whether the virus outbreak would stabilize in end-February or early March."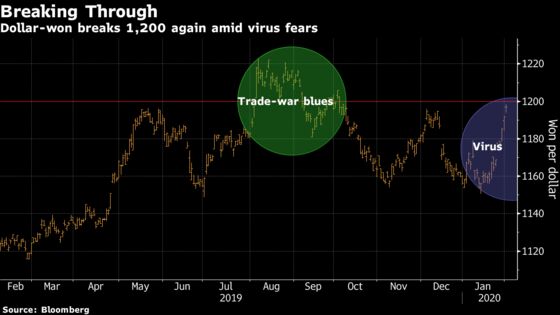 More than 700 people were confirmed to have been infected in the nation, with the government raising its alert level to red. President Moon Jae-in said the government could take "powerful measures like never before without being tied to regulations" to contain the outbreak.
Bank of Korea Governor Lee Ju-yeol will convene an emergency meeting related to the coronavirus outbreak at 3 p.m. local time, the central bank said on Sunday.
Forward swap rates indicate that traders have priced in a rate cut over the next three months, with the odds jumping to 80% on Friday from less than 40% on Feb. 14. Yields on Korea's 10-year sovereign bonds dropped 5 basis points to 1.4%.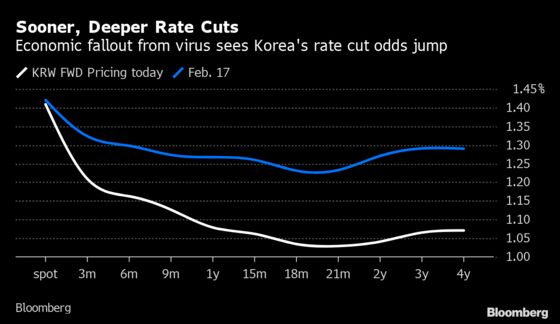 "The market will be watching how the government and BOK measures to stimulate the economy will unfold," said Kim Yumi, a market strategist at Kiwoom Securities in Seoul. "More easing, which is normally a weakening factor for the won, may help ease market anxiety and provide some relief for the currency."
The government is looking at all possible measures, including a supplementary budget, to cushion the impact of the virus outbreak, Yonhap News reported, citing Vice Minister Kim Yongbeom.
Samsung Electronics Co. shut down operations at a plant in Gumi City over the weekend after an employee tested positive for the virus. It plans to restart operations Monday afternoon.
Most Korean tech companies will miss estimates for first-quarter earnings as supplies from China, the epicenter of the outbreak, are disrupted, according to Hyungwou Park, an analyst at Shinhan Financial Group.
Samsung Electronics, the nation's biggest stock by weighting in the benchmark Kospi, has plants in Korea and Vietnam, but it gets some of parts from suppliers based in China, he added.
South Korea on Monday vowed to act "quickly, firmly" should the currency move in one direction excessively. The won is Asia's second-worst performer against the dollar in 2020.