With Little to Like in Bonds, JPMorgan Asset Says It Favors Cash
(Bloomberg) -- Investors should switch bond positions in their portfolios into cash as the global economy reopens and activity data improve, according to JPMorgan Asset Management.
Government bond yields have fallen so low that investors need alternatives to traditional safe havens to hedge their portfolios, Patrik Schowitz, global strategist at JPMorgan Asset in Hong Kong, said in an interview on Wednesday.
"We're overweight cash," Schowitz said. For investors using bonds to hedge equity portfolios, "there's not much to like any more," he said.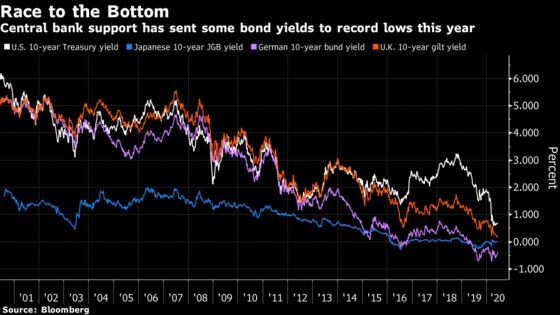 Investors have increased cash balances throughout the year to shore up portfolio defenses after March's market turmoil. That's left them on the sidelines as the global economy starts to exit from lockdowns, with the S&P 500 up 38% from the trough that month.
Money-market funds have accumulated some $1.2 trillion in inflows since February, according to Jefferies.
Schowitz said he recommends an underweight position in duration, expecting a slight rise in bond yields, and for investors to rotate out of safe havens into assets geared toward economic recovery in the months ahead. The U.S. recession is just about over, he said.
JPMorgan Asset is taking "baby steps" into higher-beta stocks and other cyclical sectors, Schowitz said. That justifies a preference for investing in Europe and emerging markets over the U.S., where stocks have run too far to be worth chasing, he added.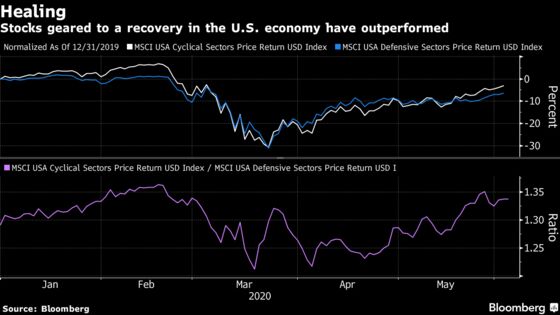 To be sure, some major institutional investors see reasons to remain cautious.
"The real economy will likely remain weak through the third quarter or end of the year, but financial markets have moved ahead on expectations of the economic rebound," strategists from BlackRock wrote in a note dated June 3. "Markets may overshoot on expectations that turn out to be overly optimistic, or there are setbacks regarding the pandemic."