Another Day, Another $2 Trillion Has Stock Traders Shuddering
(Bloomberg) -- Here's something to ponder as you consider Friday's roaring rebound in equities. To undo the worst stock market crash since 1987, it took the biggest rally since October 2008.
That's right: The last time shares surged this much, it came smack in the middle of the worst month in 33 years, one the S&P 500 finished down 17%. So while Wall Street was naturally thrilled to finish its most volatile stretch since the financial crisis on an up note, nobody was ready to call the bottom.
Another thought, to leaven the ecstasy. Last time stocks rose 9% in one session then fell 9% in the next, it was 1931. Also a less-than-auspicious year.
"We tend, in the midst of bear markets, in these crises, to see big, big swings like this, both on the downside and the upside," said Jennifer Ellison, principal at San Francisco-based wealth-advisory firm BOS. "We get this self-fulfilling prophecy. When markets are down and they start to spiral, everybody wants to run for the exits. And then they think they missed out on the bottom and they run back in."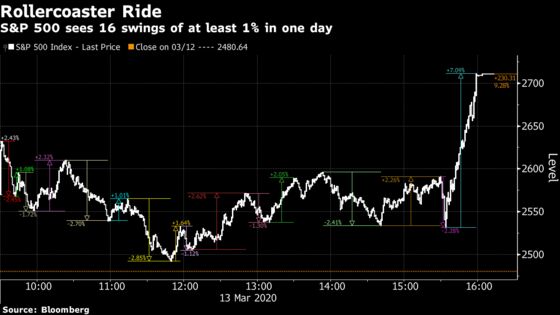 The S&P 500 surged 9.3% Friday, erasing almost 90% of the previous day's rout, as President Donald Trump joined world leaders in pledging to do whatever it takes to protect the economy from the coronavirus fallout. The second straight roughly $2 trillion move in shares capped a week in which the averages rose or fell more than 4% five straight days, a first since 1929.
Friday's session was the perfect encapsulation of the week in markets. On a chart, the S&P 500 posted 16 discernible swings of at least 1% over the 6 1/2 hours. The session also betrayed a prejudice of regulators. While Thursday's spiral was halted a few minutes in by circuit breakers designed to limit panic buying, no such breaks exist when volatility is to the upside.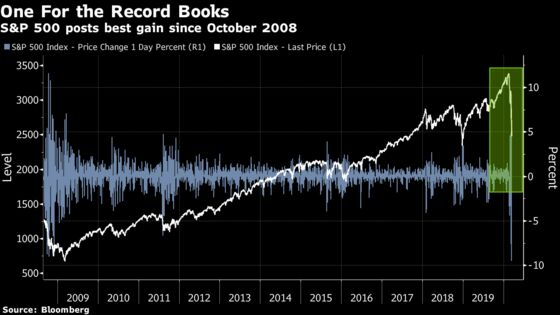 In terms of valuations, the prior session may have set the stage for a rebound. After Thursday's pummeling, the S&P 500 traded at 15 times last year's profits. Even if you assume an income decline typical of a recession, the index's price-earnings ratio would come out to 17.5 -- just about average for the last 30 years.
"A day like today is recognition that notwithstanding the issue of both coronavirus and what's going on with Saudi Arabia and Russia, parts of the market appear to be oversold," said Mark Stoeckle, chief executive officer of Adams Funds. "People are looking and saying how much of the downdraft has been a result of real economic changes versus fear?"
Something approaching terror was visible on Thursday, when waves of selling sent the Cboe Volatility Index to its highest point since 2008. Turns out the gauge has never hit such an extreme point without the S&P 500 "immediately and sharply" bouncing by more than 10% over the next day or two, according to Nicholas Colas, co-founder of DataTrek Research.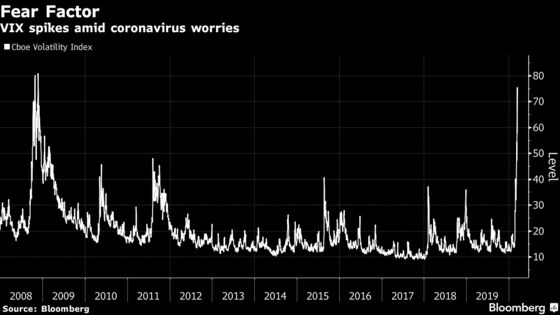 Measures of share turbulence eased Friday while still staying elevated. A day before, the VIX closed above 75, a level surpassed by only three other dates -- all of them notched in 2008. The gauge has closed above 40 for a sixth straight session on Friday.
"It's been a wild ride all week," Quincy Krosby, chief market strategist at Prudential Financial Inc., told Bloomberg TV. "We saw indiscriminate selling all week long. That's a good thing because it's telling you that we're reaching a panic level. And we always like to say: Try to look for peak panic. Have we gotten there yet? Maybe not yet."