Looming Money-Market Shift Has Big Implications for Risk Assets
(Bloomberg) -- The world's most boring investment is about to get interesting again.
When the Federal Reserve makes its forecast interest-rate increase next week, it will take the benchmark above core inflation for the first time since 2008. Money market funds, the bank-deposit alternatives that invest mainly in very short-dated securities, are already enjoying their longest streak of inflows since the global financial crisis.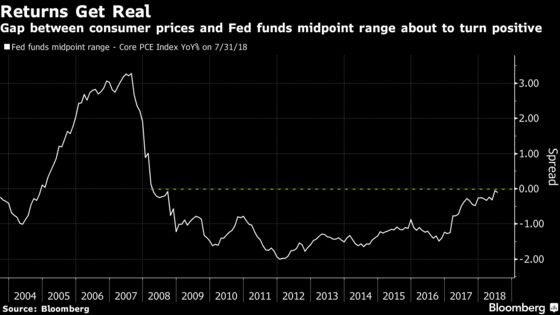 Positive real returns on low-risk assets could shape up as a pivotal moment in the global investment cycle. A number of gauges are now illustrating their increasing attractiveness. Among them: a 3 percent-plus yield on 10-year Treasury notes that's diminishing the relative appeal of equities.
"It's great that cash rates are high again and you can actually make money out of it," said Nader Naeimi, who runs a global multi-asset fund for AMP Capital Investors Ltd. in Sydney. "The bar for holding risky assets is higher -- in other words, bigger falls in stocks or bigger increases in earnings yields are now required to encourage us to move out of cash."
The gap between the yield on three-month Treasury bills and the S&P 500 Index has climbed to the highest since 2008, showing how short-term money is winning more friends as riskier assets are forced to work harder to lure every dollar in this age of exuberance.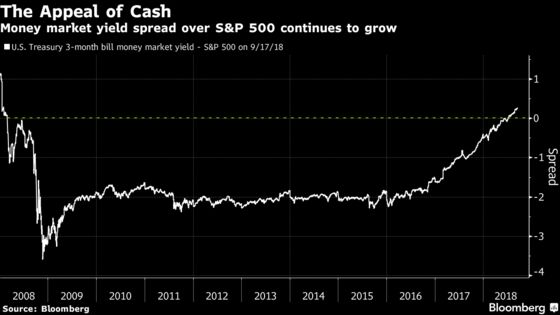 The Sept. 25-26 Fed meeting will feature a quarterly update to the central bank's dot-plot projections for growth, inflation and the policy rate, offering a fresh outlook on the prospect for further tightening into 2019. Any validation that policy makers are ready to keep going could drive up returns on assets such as six-month Treasury bills, currently yielding 2.35 percent, the most since 2007. Again, it bodes for yet further inflows to cash.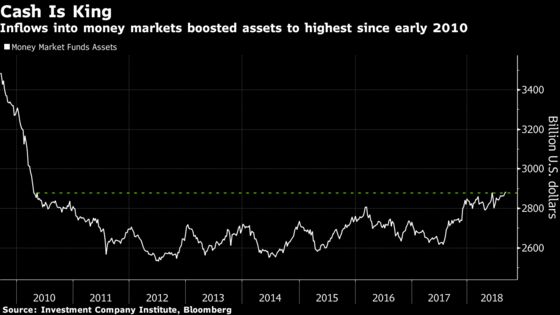 No wonder that cash is becoming one of the most favored investments in Bank of America Merrill Lynch's monthly survey of money managers. The poll of investors overseeing a combined $742 billion of assets showed cash as the second-biggest long position relative to the history of the survey, going back to 2001. It was only beaten by bullish bets on U.S. stocks, a star outperformer in 2018.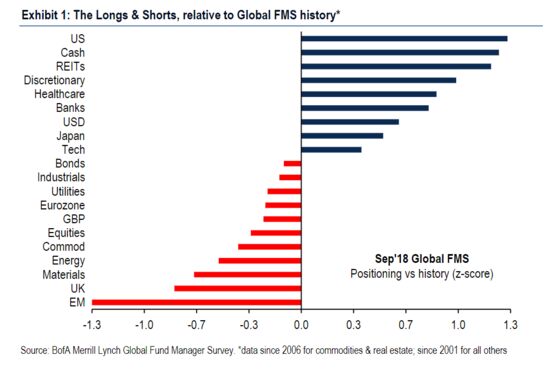 Investors aren't just favoring government debt. Prime funds, money market funds that primarily invest in corporate debt securities, have sucked in flows for 10 consecutive weeks, the longest stretch since early 2009, according to Investment Company Institute data through Sept. 12.
While some of the inflow may be related to U.S. corporate repatriation proceeds, there are sings of mom-and-pop demand as well. Read about that here.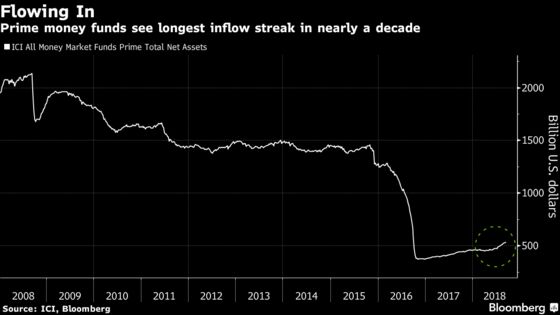 Plenty of asset managers are still on the hunt for yield premiums -- Goldman Sachs Asset Management is buying Turkish and Argentine debt, for example -- but the rising rates on cash are set to be an increasing attraction for less adventurous investors.