Why U.K. Stocks Are Exiled to the Brexit Doghouse
(Bloomberg Opinion) -- As the U.K. stumbles toward leaving the European Union like a drunk struggling to find the pub exit at closing time, domestic investors are becoming increasingly gloomy about the outlook for the nation's stocks. With a no-deal Brexit looking increasingly likely, their growing pessimism is justified.
Investment manager Hargreaves Lansdown Plc just published its latest survey of U.K. retail investors. Sentiment toward domestic stocks is even worse than it was during the financial crisis a decade ago; Hargreaves Lansdown analyst Laith Khalaf blames Brexit for undermining confidence.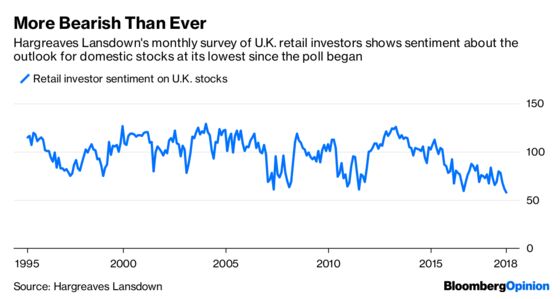 U.K. retail investors dumped 315 million pounds ($416 million) of domestic equities in July, according to figures released earlier this month by the Investment Association, boosting the average net monthly withdrawals in the past year to almost 400 million pounds, even as other markets have experienced inflows.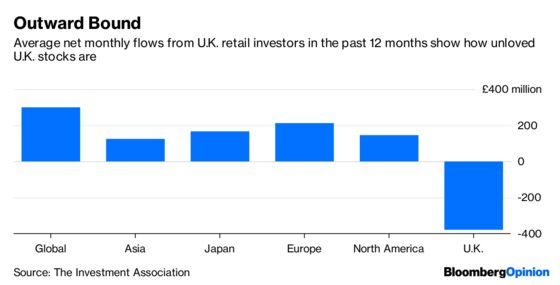 So it's little wonder that investors have made nothing in the U.K. stock market this year.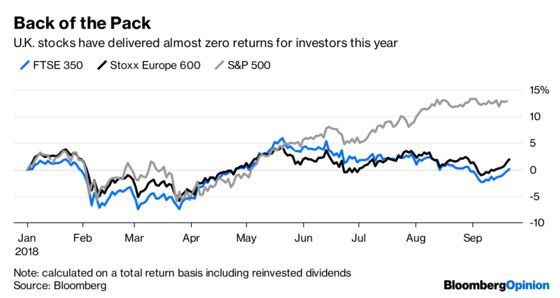 Britons are already exposed to income risk and house-value risk, both of which are pretty hard to avoid if they're committed to staying in the country and they don't want to start renting. So why would they add investment risk to the list of potential post-Brexit downsides?
Wage growth has averaged just 1.9 percent this decade; with inflation running at 2.3 percent, real incomes for Britons have declined. August's 2.7 percent rise in consumer prices outpaced July's 2.6 percent increase in pay. The next set of income figures are scheduled for the middle of October.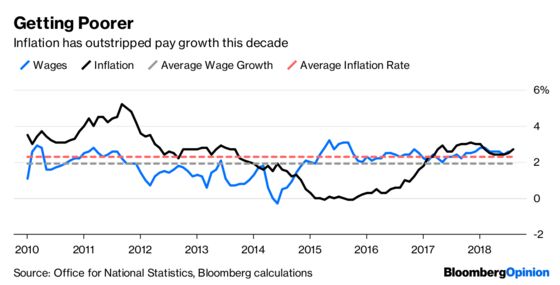 Research consultancy Oxford Economics reckons a no-deal Brexit would knock 2.1 percent off U.K. gross domestic product by the end of 2020. By the end of 2030, Brexit will have cost the U.K. about 7 percent of its annual GDP, according to estimates compiled by Bloomberg Economics. That rises to about 9 percent if the nation exits the bloc without an agreement.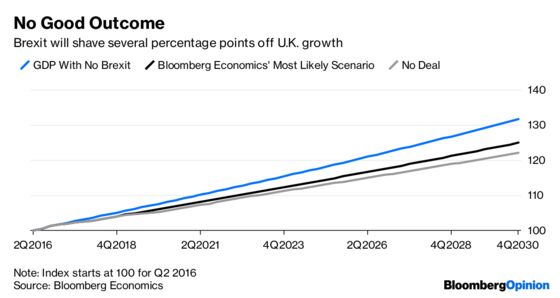 Billionaire investor Howard Marks, whose firm Oaktree Capital Group LLC specializes in distressed investments, told the Financial Times last week that Brexit has made Britain too risky to invest in for now. When both the smart international money and retail domestic investors shun a nation's securities markets, you know there's real economic trouble looming.
This column does not necessarily reflect the opinion of the editorial board or Bloomberg LP and its owners.
Mark Gilbert is a Bloomberg Opinion columnist covering asset management. He previously was the London bureau chief for Bloomberg News. He is also the author of "Complicit: How Greed and Collusion Made the Credit Crisis Unstoppable."