Why Smart Money Acting Dumb Could Be Good News for U.S. Stocks
(Bloomberg) -- October has seen the worst selling in decades at the end of the trading day and that could provide a positive signal for U.S. stocks in the short-term, according to Sundial Capital Research Inc.
A gauge that tracks the performance of the Dow Jones Industrial Average during the first and last half-hour of trading has fallen to a 22-year low. The Smart Money Flow Index traded this week below levels seen during the global financial crisis and the dotcom crash, but that's not because so-called smart money investors are running for the exits, but rather more likely is the result of forced selling from exchange-traded funds, says Sundial president, Jason Goepfert.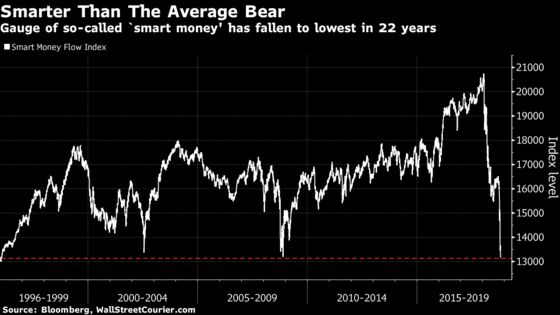 "The big drop in the SMFI is likely not a negative indication of 'smart money' selling," he wrote in a note Tuesday. "More likely, it's the opposite as passive investors hit the sell button and exchange-traded fund providers have to sell stock in order to keep everything in line before the market close each day."
Questions have been raised before over the efficacy of the smart money gauge and Goepfert is in agreement. The index is likely broken thanks to the growth of ETF behavior, he said. Still, that selling during the last hour has been heavy enough indicates an extreme that is normally at least partially reversed in subsequent weeks, he said.
Bullish investors have been hammered this October after a wipeout of about $8 trillion from global equities. Disappointing earnings outlooks, concerns over the impact of hardening U.S. rates and worries about ongoing trade tensions have helped fuel an almost eight percent drop in the S&P 500 Index this month.
Other times that last-hour selling pressure has been this severe, the U.S. benchmark has rebounded 85 percent of the time with a median return of 7 percent over the next month, according to Goepfert's calculations.
"The recent dominance of ETF trading in the last hour of the day has distorted this measure like no time in history," he said. "It's no longer smart money that's most active at this time of the day, but rather passive 'dumb money'."