Here's Why Hong Kong's Stock Market Makes Some Investors Nervous
(Bloomberg) -- Hong Kong may be Asia's premier financial hub and a favorite for U.S. and European stock investors, but away from the big names such as Tencent Holdings Ltd. traders must negotiate unusual practices that might seem out of place for the world's fourth-biggest market. Here is a list of issues that are worrying some investors and vexing regulators.
Monumental price collapses, such as the five stocks that slumped more than 60 percent during a single trading session in November, are nothing unusual. The phenomenon can afflict groups of firms connected by shareholders or business line, but often there's no obvious link. A common explanation is the practice of major shareholders pledging shares as collateral for loans, which can result in a lender suddenly dumping stock. The issue for money managers is that there's no need to disclose such loans, except in limited circumstances, making it hard to assess the risks associated with some stocks and shareholders. Such patterns are unusual in developed markets and are a deterrent to investing in the city's small and mid cap shares, said Rafi Mohideen, head of Asian trading at Nomura Holdings Inc.'s wholly owned Instinet Pacific.
Regulator reaction: None so far. The last attempt by the Securities and Futures Commission (SFC) to discuss widening share pledge disclosure rules was under former Chief Executive Officer Martin Wheatley and failed due to opposition from banks and brokerages. One change Hong Kong Exchanges & Clearing Ltd. (HKEX) could make is to expand to all shares a mechanism which briefly caps how much a stock can move during extreme price swings, said Mohideen.
Local investors have long been aware of notorious "Lo Tsin" stocks, Cantonese slang for "tricksters." As described by SFC officials, these can include networks of shares tainted by questionable financial managers, money lenders and brokers who conspire to divert public shareholder wealth into private hands, often by selling and buying assets at huge discounts or overvaluations. Another type of network, this one involving a web of cross shareholdings, is the "Enigma Network," a name coined by activist investor David Webb who identified links between some 50 firms in May 2017. Many of the companies' shares plunged in the following months as the regulator and anti-corruption police raided premises and made arrests. Ongoing court cases show alleged efforts to steal tens of millions of dollars from some member firms through elaborate lending scams.
Regulator reaction: Tom Atkinson, the SFC's enforcement chief, has called such networks one of the regulator's biggest challenges and is readying charges against unnamed operators.
Hong Kong has the highest concentration of directors in developed markets, hindering efforts to diversify boards and risking lax corporate oversight by overstretched directors. The city has 113 companies with a director who served on more than six boards, compared with 39 on the New York Stock Exchange and eight in London, a Bloomberg News analysis showed. Some of the most prolific directors often sit on boards at firms caught up in fraud, huge drops in share prices and regulatory investigations, according to research by Charles Dery of risk management firm Lyra Financial Corp.
Regulator reaction: While regulators are set to impose rules that require firms to justify why they are hiring directors who are on multiple boards, they've stopped short of imposing a cap.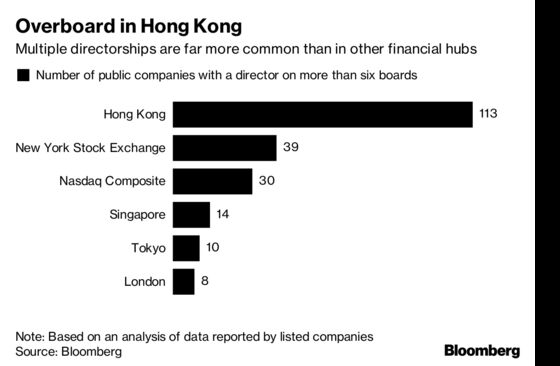 Heavy demand for backdoor listings by Chinese firms gave rise to one of the quirkier sides of Hong Kong's capital market: Newly listed public companies changing ownership, and even their type of business, within months of an initial public offering. Regulators suspected firms were going public on false pretenses and that the new owners were trying to evade the scrutiny of an IPO. Typically the companies involved were small or mid caps. The practice became so widespread that speculators pumped the shares of suspected backdoor targets leading to some roller-coaster stock movements.
Regulator reaction: New rules from HKEX to curb backdoor listings are expected soon.
Corporate governance issues aside, Hong Kong's small and mid cap markets struggle from low volumes and wide spreads. Investors such as Angela Chow, chief executive officer at Cachet Asset Management, worry that even a small stake adjustment can move a stock price, making it easier for bad actors to manipulate the market and discouraging serious investors. Short-selling, which adds scrutiny to companies, is also limited in Hong Kong to firms with a large market capitalization. Officials at HKEX have often spoken about ways to improve trading volumes though most changes require regulatory or government approval.
Regulator reaction: The SFC and government are waiting for HKEX to submit formal proposals.
6. Small-cap IPO pops and repeat rights issues
Areas that the regulator and exchange appear to have nixed are the phenomena of extraordinary first-day gains in small-cap IPOs (this one rose 1,500 percent) and repeat rights issues (such as the company that planned an eighth in five years after wiping out 99.99 percent of its original value).
Regulator reaction: Following several rule changes and enforcement action these practices have largely disappeared, SFC Executive Director Brian Ho said in November.
Grant Thornton's report: Hong Kong Corporate Governance Review 2017
A speech by SFC CEO Ashley Alder discussing governance and regulation.
Asian Corporate Governance Association's 2016 report on Asia-wide governance issues.
Bloomberg outlines efforts to improve the quality of small cap listings.
A HKEX consultation on curbing backdoor listings.