Why European Bank Stocks Aren't Impressed With Draghi's Speech
(Bloomberg) -- Investors were expecting today's European Central Bank meeting to be a turning point for the region's equities, with Societe Generale SA calling it the key reason why it's too early to leave for summer vacation.
Maybe traders should have left for Ibiza or St. Tropez after all given the lack of clarity regarding the timing of potential rate increases, the main point the market was looking forward to since this will be key in European banks' profit recovery. The sector index was up a meager 0.2 percent following ECB President Mario Draghi's press conference, underperforming a 0.8 percent rally in the Stoxx Europe 600, which was mostly boosted by a sharp drop in the single currency.
Here's what a number of analysts and traders say about today's statement:
The ECB offered no surprises, "Draghi just gave the market what it was expecting," said Nuria Alvarez, a banking analyst at Renta 4 in Madrid. "The rate hike expected for mid-2019 is not good news for the banks as there is still one more year to go and even then the raise will not be very significant. It's not a very exciting outlook for the banks, many strategy plans will fail."
The ECB is "not coming as a big surprise," said Uwe Maderer, a portfolio manager at Deka Investment in Frankfurt. "The only factor that surprised was a very clear forward guidance for the next 12 months. The market will now need to adjust to that. Due to that clear guidance, the market needs to remove risk premium, especially in rates, which should lead to a steeper rates curve, which is positive for banks."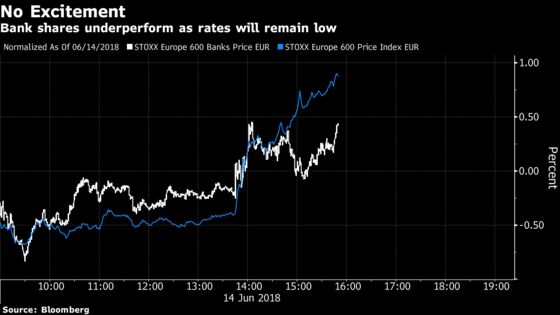 "Banks have still many challenges ahead," Alfonso Benito, chief investment officer at Spanish asset manager Dunas Capital, said by phone. "An interest rate hike will be positive for them, but it will probably be small and, anyway, we will remain in a low interest-rate environment for a very long time, so a small hike will not be significant for banks' business. The key question is where are they going to make money from."
"For equities, it is pretty marginal in truth," said William Hobbs, the head of investment strategy at Barclays's wealth-management unit in London. "The market has not been pricing in a first-half rate hike for 2019 for some time. It obviously confirms that the ECB is not going to be riding to the banking sector's rescue (from a profitability perspective) any time soon, but we all knew that anyway."
A gauge for industrial stocks rose 0.8 percent and the auto sector index was up 1.5 percent, while the euro was down 0.9 percent at $1.1680. "I guess the fact that it's industrials at the top of the leader-board suggests that people may be reading in a bit of a boost to translated profits," Hobbs said.
"The market had expected today's statement from Draghi," said Guillermo Hernandez Sampere, head of trading at MPPM EK in Eppstein, Germany. "A lot of things can happen in a year and the new president will have to handle the rate hike next year."