European Investors Are Hungry for a Taste of Pot Stocks
(Bloomberg) -- Pot is hot in the Great White North and so frenzied that fears of a bubble are rippling through the industry. For investors watching from across the Atlantic, the question is when they can place bets on cannabis in local markets.
Canadian cannabis-related stocks have rocketed ahead of the full legalization of recreational weed in the country on Oct. 17. Big beer companies have entered the fray, valuations are sky-high and just mentioning marijuana can make a share jump, earning weed stocks comparisons to the Bitcoin mania that gripped markets last year. Short sellers are already on the attack.
Europe's market has yet to light up, but the potential is huge, Canaccord Genuity Group Inc. said in an August report. The big prize would be full legalization of the recreational market across the continent. That won't happen any time soon, but annual sales would top 25 billion euros ($29.4 billion), Canaccord projected. Statistics Canada estimates that C$1 billion ($773 million) will be spent on legal marijuana in the final three months of 2018, after the law changes. Extrapolated over a year, Canada's sales would be worth roughly an eighth of what Canaccord thinks the European market could generate.
Medicinal sales alone offer significant opportunities in Europe. Based on consumption data in the Netherlands, European medicinal sales could reach at least 450 million euros a year by 2022, while the cannabinoid (CBD) oil and supplements market is growing 40 percent a year, and will hit annual sales of over 650 million euros by 2022, according to Canaccord.
Medicinal cannabis legalization turned a corner when Germany passed legislation in early 2017, Canaccord analyst Alex Brooks said by email. Since then, Portugal, Spain and Denmark have joined the Netherlands, Italy and other countries to legalize markets. The trade will remain medicinal, as a "prescription-only, professional-led market for the foreseeable future," he added.
The U.K.'s listed cannabis sector will accelerate sharply in the next 12 months, with companies tapping into substance testing, delivery devices, insurance, distribution and event segments, but all medicinal and not recreational. "If public opinion changes, and it could, then things may change -- but no one is seriously investing on that basis today," Brooks said.
"I don't think the U.K. investment community has a handle on it yet," Geremy Thomas, a man betting things will change, said in an interview this week. He co-founded Sativa Investments Plc after witnessing the enthusiasm for medicinal cannabis at a Canaccord conference in Vancouver last year.
Sativa is one of just three tiny investment vehicles focused on medicinal cannabis. Ananda Developments Plc and High Growth Capital Plc are the others, and all of them are listed on London's small-cap NEX exchange. Investment group High Growth Capital pivoted to cannabis from sports data, demonstrating the feverish attraction of the pot market. So far, the only heavy hitter to have come aboard is tobacco giant Imperial Brands Plc, which invested in a medical cannabis startup in June.
The sums involved are small fry compared to the cash swilling around Canada's pot industry. Of the three vehicles, Sativa raised the most, 1.1 million pounds ($1.3 million), when it listed in March. Compare that to Tilray's $11.5 billion market capitalization, or over $14 billion for Canopy Growth.
Sativa has a stake in Veritas Pharma Inc., which studies what strains of the plant are best for various medical conditions, and Rapid Dose Therapeutics Inc. a maker of cannabis oil strips that dissolve on a patient's tongue. On Friday, the company announced a joint venture with Lexamed GmbH, based just outside of Stuttgart, to help it tap Germany's market.
In 2016, the U.K. was the largest producer of the plant for medical purposes and scientific research, according to the International Narcotics Control Board, with Canada in second place. A Cambridge-based British firm, GW Pharmaceuticals Plc, developed the world's first prescription medicine derived from the cannabis plant, according to the company's website, but its shares are traded in New York.
Sativa could potentially offer the recreational-use services of Canadian companies in the U.K. and Europe, but that won't happen until there is a shift in public opinion and marijuana regulation, Thomas said.
Attitudes are starting to change, in both the U.K. and Europe. Two British children with epilepsy, Alfie Dingley and Billy Caldwell, were given special permission to import cannabis oils early this year, after public wrangles with the government put the substance's benefits in the limelight, according to Thomas. "It's very difficult to argue against that sort of anecdotal evidence," he said.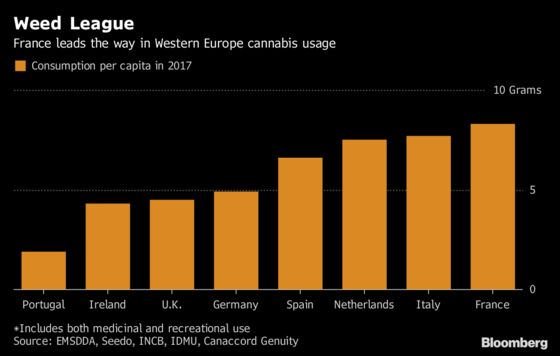 In France, 82 percent are in favor of making cannabis available for medicinal purposes, according to a survey of 2,005 people by think tank Terra Nova in June. And 75 percent of Britons support prescriptive cannabis, YouGov said in May, prior to the Dingley and Caldwell cases. Germany legalized medical marijuana use in March 2017.
On July 26, U.K. Home Secretary Sajid Javid said cannabis-derived products that meet safety and quality standards will be re-categorized this fall. Sativa's stock jumped 25 percent the same day. Reclassification will give U.K. investors a real idea of how the medicinal cannabis market will work, Thomas said.
Much of the populace lacks understanding for cannabis and has "this historic image of people smoking joints on street corners," said Thomas. "I just hope that the regulators behind the politicians don't put up barriers."