When Stocks and Bonds Clash, the Smart Money Bets on Treasuries
(Bloomberg) -- In the battle of wills between stocks and bonds, bonds win.
At least when the battle turns ugly, as it has of late, with both markets pushing limits in a test of nerves that has occurred only 10 times in four decades.
It began before the recent swoon in equities, toward the end of September, when 10-year yields climbed to a 52-week high at the same time the S&P 500 reached a record. Moves like that are unusual and have marked turning points for investors in the past, according to Doug Ramsey, chief investment officer at Leuthold Group.
Deriving a signal from two of the world's biggest pots of money has become an obsession of Wall Street. Debate rages over whether rising interest rates boom or bust for the economy. According to Ramsey, the alignment is almost always an all-in signal for fixed income, perhaps because high yields are a bigger brake on growth than rising stocks are an accelerant.
"Those joint highs worked as bond buy signals because the backup in yields was enough to slow the economy," Ramsey said. "The fact that the stock market was at new highs suggests that the growth slowdown was unanticipated by equity investors."
On average, when rates and equities touch 52-week highs, yields fall 40 basis points in the next half a year, while stocks are more or less flat.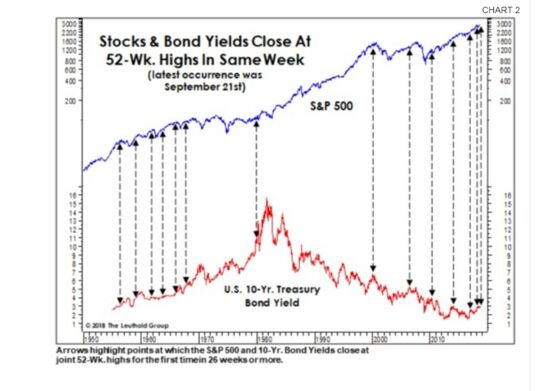 The S&P 500 reached a record in the week ending Sept. 21, and the 10-year constant maturity yields rose to 3.07 percent, tying with a high in May, at the same time. The yield stood at 3.20 as of 7:35 a.m. in New York.