Wheat's Weather Worries Drag On, But Grain Bears Are Coming Back
(Bloomberg) -- While it's been a tumultuous few months for the world's wheat producers, hedge funds are betting that supply fears are subsiding.
Wheat prices have jumped 18 percent this year in Chicago as bouts of heat and dryness worldwide curbed output this summer, spurring an inventory drawdown after many seasons of excess supply and low prices. But the market's biggest worry has been over a slowdown in Russian shipments, and that's yet to materialize, helping to ease the crop concerns.
Investors are now back to piling into bearish wagers. With Russia dominating global shipments, that's quelling demand for exports from other nations. At the same time, much of the Northern Hemisphere's wheat won't be harvested until the middle of next year, giving a buffer period for rains to improve crop conditions. Gains for plantings may also help mitigate the weather woes.
"It's very, very early days to talk about a bad crop in 2019," said Benjamin Bodart, director at farm adviser CRM AgriCommodities in Newmarket, England.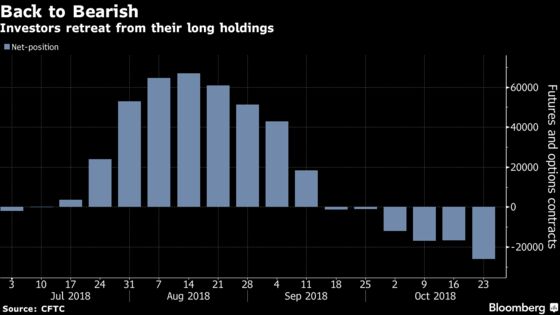 Hedge funds expanded their wheat net-short position, or the difference between bets on a price increase and wagers on a decline, by 55 percent to 26,105 futures and options in the week ended Oct. 23, according to U.S. Commodity Futures Trading Commission data published Friday. That's the most-negative outlook since early May. Short-only holdings climbed for an eighth straight week, the longest stretch since 2010.
On the Chicago Board of Trade, benchmark wheat futures for December delivery fell 1.8 percent in the week ended Friday to $5.0525 a bushel. The contract is down 18 percent from a peak in early August.
Here's how crops are faring across the globe:
Black Sea
Despite its smaller harvest, top shipper Russia has been exporting wheat at a record fast pace so far this season -- dominating global trade. On Friday, the nation's agriculture ministry said it expects wheat exports of 33 million to 34 million metric tons, higher than previously estimated.
Seeding is mostly complete for winter crops. Farmers have planted more than expected, and there are signs of improving weather. Recent heavy rains could help boost the next wheat crop, with as much as double the normal monthly amount of rain falling in southern areas Oct. 24.
Harvests were marred by heat and drought earlier this year, and the weather has held warm and dry as farmers finish planting. Crops will lie dormant for the winter. The European Union's agricultural monitoring unit warned that wheat emergence is at risk.
"The market appears to be overlooking these drought risks -- most likely because yields are determined in spring," analysts at Rabobank International said in an Oct. 19 report.
The U.S. Plains have seen a bout of the opposite problem: excess rain. The untimely deluge has slowed the final stretch for winter-wheat planting. But even with the delays, the market has remain fixated on sluggish demand for American exports. Shipments since June 1 are trailing last year by 22 percent. Meanwhile, Canada's agriculture agency boosted its outlook for production in a report Oct. 19.
There's still some speculation in the market that Russia's exports will eventually slow, opening an opportunity for American farmers. At the same, declining prices have made the supplies more competitive. Egypt, the top importer, on Friday bought U.S. wheat in a tender for the first time since the 2016-2017 season. Prices gained in anticipation of the sale, rising as much as 4 percent in Chicago.
In the Southern Hemisphere, crops are facing some threats that risk driving prices back higher. Australia is typically the region's biggest shipper, but conditions are so bad that buyers may consider importing some grain, according to Rabobank.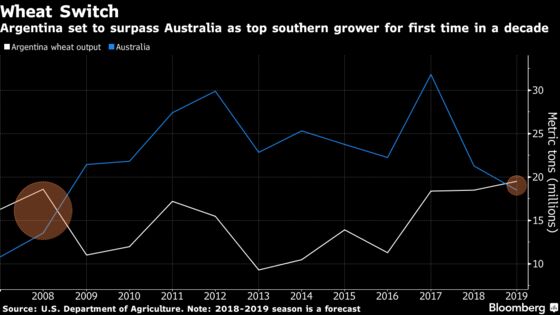 New South Wales, the largest wheat grower in the east, had the driest January-to-August since 1965. At the same time, severe frost hit what was looking to be a large crop in the west. The damage means Argentina's exports may surpass Australia's for the first time in a decade. And while the Latin American country is on course for a record harvest, continued dryness -- on top of hail and frosts -- has curbed analysts' forecasts.
"Things have improved a little bit in the last month, but there's still a lot of weather issues" for global crops, said Kyle Tapley, senior agricultural meteorologist at Radiant Solutions.