What Trade War? Stocks in This Country Are Doing Just Fine
(Bloomberg) -- It's been a quarter of emerging-market turmoil, intra-European bickering and trade war headlines. These are all bad for European equities, but one corner is looking surprisingly resilient: France.
The nation's CAC 40 benchmark has gained 3.3 percent this quarter, compared to 0.7 percent for the Euro Stoxx 50 and 0.2 percent for Germany's DAX. While global concerns have weighed on export-sensitive European markets and especially German companies, more diversified French large-caps have emerged relatively unscathed.
With high-end consumer brands still flying, the market's luxury focus has helped. Among heavyweights, rising energy prices have boosted Total SA, while Sanofi has benefited from gains across pharmaceuticals.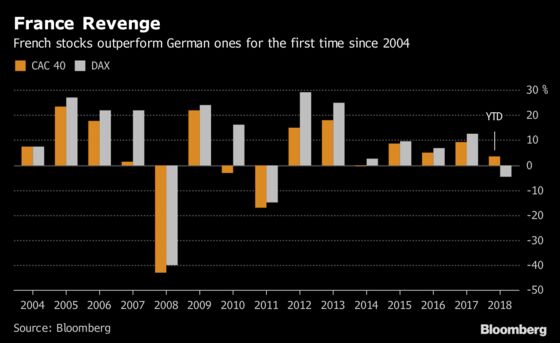 The gap between French and German stocks is a good illustration of this dynamic. The CAC has outperformed the DAX by about 8 percentage points so far in 2018, set for its first year of beating the German benchmark since 2004. The DAX, home of car makers such as BMW AG and Daimler AG, has been particularly hit by the global trade tensions over the past few months.
For the French market, attributes including lower Chinese and financial exposure, "combined with a steady, reforming political backdrop, have helped French equities in recent months and, while political and EM uncertainties persist, may continue to do so," Credit Suisse Group AG strategists led by Robert Griffiths wrote in a note this month.