What to Watch in European Credit Markets This Week
(Bloomberg) -- Good morning. Here's what we will be watching this week:
Last week was the slowest for sales of new bonds in Europe since August, and there's not much to suggest this week will be much different. The sell-off in equities has dampened sentiment just at the point when investment-grade borrowers and bankers begin to wonder whether it's time to pack up new-issue plans for the year. Two-thirds of respondents to a Bloomberg survey said they don't expect more than 15 billion euros ($17.1 billion) of issuance this week and U.S. non-farm payrolls means we can write off Friday for deals. Suki Mann, the founder of CreditMarketDaily.com, wrote: "We are so close to year-end that few will be looking to do anything drastic and prefer to protect current performance."
Italian bonds climbed this morning, with yields on two-year debt falling 15 basis points after S&P Global Ratings lowered its outlook to negative but kept its rating unchanged at two notches above junk. That could lead to a revival in Italian bonds, giving BTPs the chance to "recover further", analysts from Commerzbank AG wrote in a client note this morning. However, Giuseppe Conte, the country's premier, this morning asked government entities to prepare options for interventions to help banks if the bond yield spread worsens.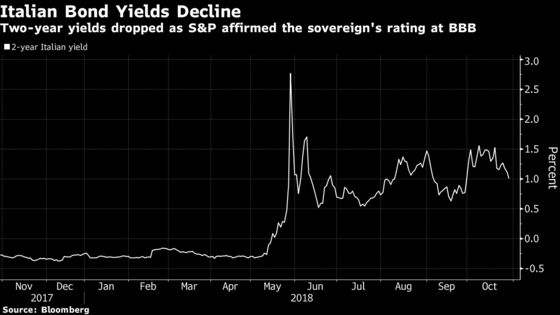 It's been an earnings season of hits and misses, with weak earnings from Amazon Inc. and Google owner Alphabet Inc. among those that helped spurred slides on global equities markets and frayed nerves on credit markets. Two more of the FAANGs -- Facebook Inc. and Apple Inc. -- report this week, on Tuesday and Thursday.
Floating-rate leveraged debt has been outperforming many other fixed-rate investments, helping fuel a surge in new deals and refinancings in the leveraged-loan market on both sides of the Atlantic. A glance at the latest pipeline show just how busy those folks are. And it's not all quiet for high-yield fixed-rate deals either, with a couple of less-usual names announcing deals today. But amid the deal rush there's a constant stream of people voicing concern about where it all might end.
British Chancellor Philip Hammond will deliver his annual tax and spending plans this afternoon, where he'll be keen to talk about ending austerity. He may also cut annual bond issuance to the lowest in more than a decade, which could drive demand for gilts. However, he has also said a no-deal Brexit may scupper his plans altogether: leaving the EU without a withdrawal deal may mean he has to go back to the drawing board and introduce an emergency Budget that includes plans for prolonged austerity, he warned last night.