What Selloff? ETF Investors Shovel $4 Billion Into U.S. Stocks
(Bloomberg) -- As U.S. equities erased gains for the year, passive investors bought the dip.
Around $4 billion flowed Wednesday into the two largest exchange-traded funds tracking the S&P 500 Index -- State Street's SPY and BlackRock Inc.'s IVV. That's the most in over a month.
The deluge into the retail-friendly vehicles comes as the gauge posted declines in 19 of 24 days since peaking in September, with bad days landing at almost twice the frequency of the last three corrections.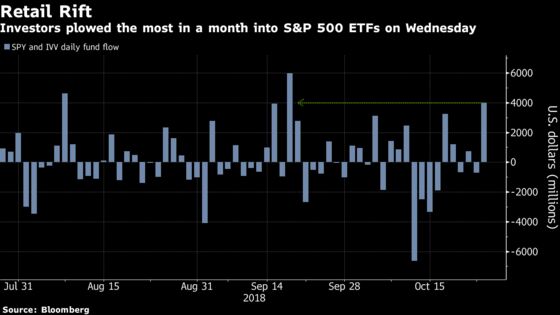 Call it dip-buying or an ominous signal that the selloff that has wiped out $2 trillion from equity values may keep going until buyers are exhausted. Regardless, it may underscore a rift between bears on Wall Street and bulls on Main Street.
For the third week in a row, individual investors bought stocks while institutional and hedge funds were net sellers, data on client flows compiled by Bank of America showed. In fact, hedge funds and institutional investors have been net sellers on a four-week basis since at least August, according to the data.