What Rotation? Value Stocks Are Nowhere Near as Popular as Claimed
(Bloomberg) -- There's a lot of chatter about a global rotation into value stocks, but the data doesn't quite back it up.
During this month's market sell-off, the MSCI World Value Index outperformed growth stocks, fueling speculation about a switch into cheaper equities. Yet EPFR Global's fund flow data show that in the week that ended Oct. 17, which included the stock market rout, U.S. growth funds saw $1.1 billion of inflows while U.S. value funds lost $1.4 billion.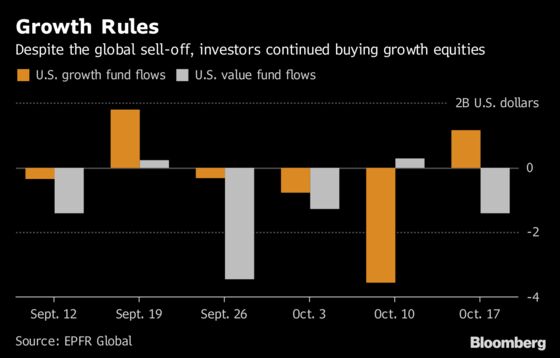 Global value stocks started outperforming growth equities in September, leading to calls from strategists, including those at Deutsche Bank AG, for a shift toward lower-valuation stocks in an environment of rising bond yields. But numerous investors, including State Street, Joh Berenberg Gossler & Co. KG as well as Allianz Global, remain fans of companies that are expected to expand rapidly, because these money managers don't believe global growth is faltering just yet.
"While global economic growth is decelerating, we are not yet faced with an imminent recession, and typically in such stages, defensive growth tends to perform well," said Marcus Morris-Eyton, a London-based fund manager at Allianz Global Investors. "We always stick to growth, and have actually used the pullback to increase some names where we felt the sell-off was overdone."
The recent jump in U.S. bond yields, which spurred the flight from equities in October, is a sign that growth remains strong, as are recent economic indicators in Europe and the U.S., according to strategists from Sanford C. Bernstein & Co.
In Western Europe, considered a value-oriented market by investors due to the large share of financial stocks, redemptions from value-focused equity funds in the week through Oct. 17 were around $227 million, about double the amount of outflows from growth-focused funds, according to EPFR.